MARC GOLDBERG

chicagodogtrainer.com
Call: 800-516-0001
--------------------------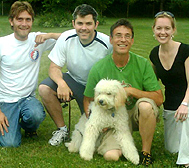 Trainer Patrick Farrell, Peter Sheehan, Trainer Marc Goldberg CDT, Calvin and Colleen Sheehan (Associate Producer - The Oprah Winfrey Show)
What our clients say...
"You're a miracle worker!"
Brett

"I can see she just loves you."
Elizabeth
Click here to read Bella's Story

"Marc, I must say you are an amazing individual.  I have never seen nor heard of anyone who is able to communicate with dogs this well."
Aaron & Jenny
"She's better than we ever thought she could be."
Tish
"She's like a dream dog. We can take her to PetSmart now and she behaves. It's amazing!"
Andrea
"He's 100% better. I always loved my dog. Now I can trust him too."
Paris


"For once I am not embarrassed, but proud!! I can tell he is a much happier pet. Thank you!!"
Cathi

"Every day is a good day for Zoey! She is such a happy little dog and so well behaved.  She has learned not to bark at the roofer, the painter, the house siding crew, the window man, the neighbor ...."
Anne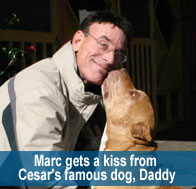 Our Philosophy
Our philosophy is simple. Improve the life of both dog and family. All too often, unruly dogs do not fully enjoy life because their families constantly become upset and frustrated with them. This is difficult for both family and dog.

Our mission is simple. Make both dog and family happy.

What does is take to make your dog happy? He will thrive when you give him leadership and attention.
Are you sometimes stressed and angry at your dog? You can have your peace of mind back!
It's only two weeks to the ideal pet... and a happier dog!
Your dog spends two fun weeks, activity filled days in our home, then a lifetime of happiness in yours! It's Force Free, and gives you total control of your dog on and off leash. Best of all, we make it fun and it's guaranteed for the life of your dog.

The ForceFree Method™ is an intuitive system of training that makes sense to both people and dogs. Effective and gentle, the training method works WITH the dogs instincts rather than against them. We achieve off leash reliability, even with distractions, amazingly fast. Most dogs perceive the training as simple "pack cooperation" and play. Therefore, they quickly shed rebellious behavior, and give you more focus than you imagined possible. Doesn't that sound like more fun than correction after correction?
Have other methods failed you and your dog? Call us!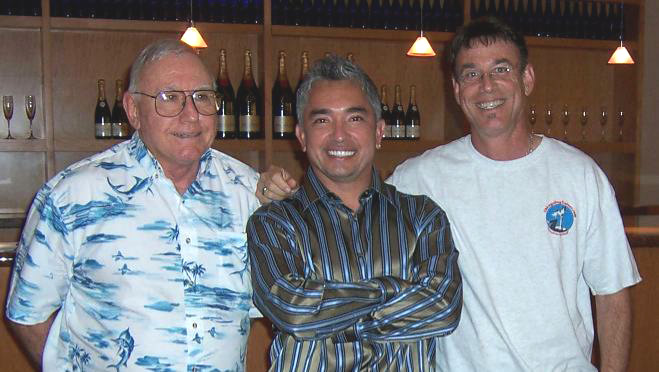 Marc's Father Barney, Dog Whisperer Cesar Millan and trainer Marc Goldberg, CDT
Even veterinarians bring their dogs to us:

When we took Sherman to meet Marc, he assessed his temperament and behavior problems, but importantly, he also assessed our relationship with our dog and what was wrong with the dynamics.

Even though I am a veterinarian, it's not often that I meet somebody with Marc's talent, experience and ability in training dogs. He has a gift of understanding dogs and knowing how to communicate with them in ways that best help them choose to behave beautifully. Thankfully for us, he is passionate about sharing that knowledge! Thank you Marc! Click to read more.

Dr. Shalini Emmanuel, BVMS, MSC
Doctor of Veterinary Medicine

 

I had worked extensively with my dog by myself as well as with veterinary behaviorists and other trainers, but had little long-term success.  In fact, some of the other trainers focused on criticizing rather than helping me remedy this behavior.  In only a short time you had him playing rather than picking fights!....Working with you has brought about an improvement in my quality of life by greatly increasing the enjoyment of taking Poe for walks and being able to take him to public places – many of the things that make sharing one's life with a dog fun! Click to read more.

Dr. Karen Terio, DVM, PhD
Doctor of Veterinary Medicine
PhD in Comparative Medicine
Assistant Professor, U. of Illinois College of Veterinary Medicine
On Staff at a major American Zoo

 
Ring the Potty Bell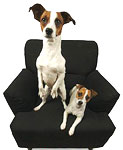 Teach your Dog to Ring the Potty Bell! One of the most useful tricks a dog can learn is to ring a bell when it's time to "go!" Not only can you teach Marc Goldberg's handy alert system to YOUR dog or young puppy, but you can accomplish the training in two weeks or less. We teach you how to teach your dog to Ring the Potty Bell as a simple game making it fun for both of you. Never miss another potty break...now your dog will give you a jingle! Only $5.99.
Housebreaking 101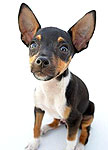 Want to housebreak your own puppy or adult dog? Save thousands of dollars in damage. Don't get mad....get help! Housebreaking 101 gives you step by step instructions on the easiest way to housebreak your puppy or grown dog. Works for most dogs! You'll see lots of improvement, even if you've been struggling. Marc Goldberg's tips troubleshooting tips are included. The Potty Game changes training from frustration to fun. Only $5.99!
Boarding School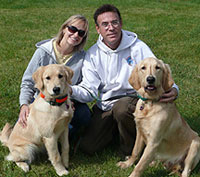 Boarding School
Option 1. Boarding School: In only two weeks, your dog comes home trained to be a happy, polite companion...on and off leash. The investment for our boarding school program pays off for a lifetime. You'll be able to go everywhere together. That's because we only use our amazing ForceFree™ Method. All behavior issues are covered, including housebreaking if it's a problem. And remember...the training is GUARANTEED for the lifetime of your dog.
Drop 'N Shop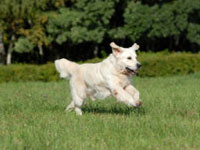 Drop 'N Shop 
Option 2. Drop 'N Shop Training: The immediate solution for rowdiness! Drop your dog off for two hours on four consecutive days. Just head to the mall, or do some grocery shopping. We'll train for excellent on leash manners. Plus you'll get a reliable off leash recall...even under distracting conditions. That's right! No more pulling. You can also play with your loose dog. He'll always come when called. Call for availability. This program is appropriate for dogs who are not aggressive and are 6 months or older. Bartlett location.
Please call us at 800-516-0001 for more information.
Private Lessons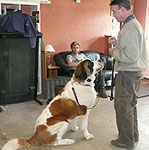 Private Lessons 
Option 3. Private Lesson Program: For those who wish to invest a bit of their own time and achieve savings. A series of six ForceFree™ lessons at our location teaches your dog excellent behavior that lasts. Most clients see dramatic improvements within two weeks. We'll do a demonstration with your dog, and if you're not amazed, you owe nothing! Covered are: leash manners, ignoring other dogs and people, jumping, mouthing, sit, down, stay, and come (on and off leash). Call for availability.
Please call us at 800-516-0001 for more information.
Pack Leader Session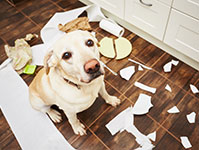 Pack Leader Session 
Option 4. Pack Leader Session: We'll meet and evaluate your dog so we can tell you "WHY your dog is doing that." Together, we design a program you can do at home, calling in to report and discuss progress. Come for two hours and leave many of your problems behind. Call for details and to see if this option is appropriate for you.
Please call us at 800-516-0001 for more information.
Potty Camp™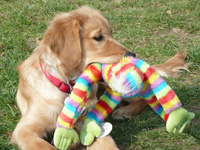 Potty

Camp™ Housebreaking Program

Option 5. : If you have a house breaking problem, our Potty Camp program is the answer! Virtually every puppy and dog can be trained to be clean in the home. If you need us, we're ready to help you get this job done! Potty Camp not only gets you the help you need, it's FUN for your puppy! We can even teach your pup to use a litter box.
Travel 'N Train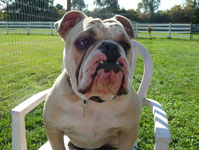 Travel 'N Train
Option 7. Travel 'N Train: We can travel to your location and train at your home, business, or vacation home...wherever your dog enjoys life with you, domestic or international. While this service is not for everyone, it is an excellent option for those who travel extensively with their dogs. Training may include but is not limited to training for good behavior on private planes or jets, and total off leash reliability on the beach and with horses. This training program is customized according to your lifestyle. Call for fees and availability.
Please call us at 800-516-0001 for more information.