MARC GOLDBERG

chicagodogtrainer.com
Call: 800-516-0001
--------------------------
Our Philosophy & Goals
Our philosophy is simple. Improve the life of both dog and family. All too often, unruly dogs do not fully enjoy life because their families constantly become upset and frustrated with them. This is difficult for both family and dog.
 
Our mission is simple. Make both dog and family happy.
 
What does is take to make your dog happy? He will thrive when you give him leadership and attention.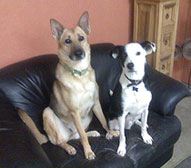 Making the family happy is a bit more complex.
Families typically want their dog to:
Come when called, every time, on or off leash
Walk nicely on a loose leash without pulling
Sit until released
Down until released
Families also want their dogs:
Not to jump on people
Not to charge through doors
Not to dig in the garden
Not to bark and chew  inappropriately
Not to climb on furniture you prefer they avoid
Not to sniff and eat off the table and counters.
Not to be wild and uncontrollable
Not to ignore you when you want their attention 
Housebreaking 101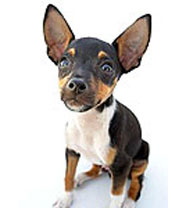 Want to housebreak your own puppy or adult dog? Save thousands of dollars in damage. Don't get mad....get help! Housebreaking 101 gives you step by step instructions on the easiest way to housebreak your puppy or grown dog. Works for most dogs!  You'll see lots of improvement, even if you've been struggling. Marc Goldberg's tips troubleshooting tips are included. The Potty Game changes training from frustration to fun. Only $5.99!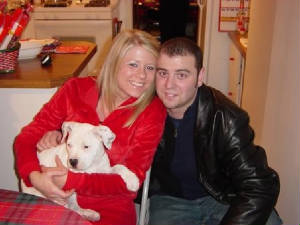 Marc,
Wow, what can I say?  I have never been more happy or proud of Bella as I have been for the last two days.  She has done everything perfectly since we have been home.  Our walks and "sits" have been done the first time and she seems to be picking that up really well. 
I took her to a park on Sunday morning and then again on Sunday night.  Off leash she was doing all of the same things as she did with you.  We worked for about a total of 5 or so hours each and every time we went outside.
Marc, I must say you are an amazing individual and I admire and respect you a great deal.  I have never seen nor heard of anyone who is able to communicate with dogs this well and have such a great sense and intelligence as well.  It seems to me as if you had broken down Bella's entire personality and looked into her more than I could have ever imagined or dreamed possible.  It was a true pleasure meeting you and I look forward to having you over for some dinner and feel free to bring whomever you would like.  I know Bella will be excited to see you again! 
She slept a lot yesterday all throughout the day until I asked her if she wanted to go outside.  Then, "freight train" came back to a full charged battery that was a rampage in the snow.  She came every time I called her and ran in the directions that I had asked her to. I am having a great time myself adapting to what you have now instilled in the both of us.  
I cant wait to get home from work just to take her out again to this park that I didn't even realize was as big as it is.  I guess that is because I have been lazy and never walked her that far.  Well those days are over now and I am happy about that.
Believe it or not, I have no questions for you at this time.  I'm sure something will arise at one point, but for now everything is going great.  I was going to wait until tomorrow to email you, but after I saw your email and for the fact that we had such a great weekend, I needed to inform you of the status. 
In short, thank you for your incredible training and most devoted attention to my dog, Bella.  We are both very happy with your results and will keep in contact even if she turns into being that perfectly amazing dog. 
After all, it wouldn't have been like this unless we met.  You are the reason she is what she is today and we will continue to grow much closer now that I have a much better understanding of her and her needs.  Thanks again Marc, and we will be in touch!
Genuinely,

Aaron, Jenny, and Bella
Max is a super energetic Spinger Spaniel with an amazing joy of life. His friendly temperament was only matched by his uncontrollable habits. He constantly sniffed at and ate off the counters and table, climbing over seated people to do so. Climbing over my client's 91 year old father in law, Max accidently clawed the elderly gentleman's arm. Numerous stitches were required. His owner, a physician, wanted Max to be able to more fully enjoy family life.
Max's other charms included not coming when called and jumping wildly on people. On top of all that, he would constantly jump in the swimming pool even though he had his own wading pool. And as if all that were not enough, Max also had a taste for the pop-up water sprinkler heads, eating them as the timer kicked on.
After our training program, Max was able to enjoy many more walks with his family. He also got to spend more outdoor time with the family by the pool...not in it. He comes when called, asks for attention without jumping, and now he only looks for food in his special place.
Champ is a happy-go-lucky Labrador Retriever who was driving his owner crazy. My client, a busy building company executive, was tired of living with the problems, but didn't have time to attend classes. Champ pulled on the leash until he literally choked, ate off the kitchen counters, and was a habitual runaway.
Moreover, he charged through any open door, and would leap into any open car, acting wild inside the moving vehicle, scratching his owner's leather interior, and creating a road hazard.
Ten days after arriving at our home training faciilty, Champ went home. His owner cringed while opening the car door, expecting Champ to fly in as usual, and jump into the front seat as always. He was very happily surpised when Champ wagged his tail, and waited for permission to enter the car.
After living with his dog for a week at home, Champ's dad called me to report the dog was better than he ever expected. I can immodestly report that his exact words were, "You're a miracle worker."
Wrigley is a Siberian Husky who ate the kitchen cabinets whenever he was gated in the kitchen. He destroyed most of the base corner cabinets. This mischevious boy would also happily climb over the gate and get in trouble throughout the house.
 
Wrigley's other habits included dragging his owner down the street when on leash, and running away when off leash. The back yard was full of holes because Wrigley loved to dig.
 
Wrigley's relationship with his owner has improved one hundred percent. He respects his owner's property, comes when she calls off leash, and walks like a gentleman on the leash. Wrigely can now enjoy the yard more because he no longer digs. His owner has saved thousands of dollars in home furnishings that are no longer at risk.
<<

Start

<

Prev

1

2 3 4 Next > End >>


Page 1 of 4
Boarding School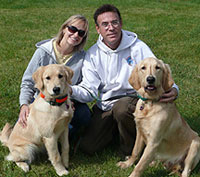 Boarding School
Option 1. Boarding School: In only two weeks, your dog comes home trained to be a happy, polite companion...on and off leash. The investment for our boarding school program pays off for a lifetime. You'll be able to go everywhere together. That's because we only use our amazing ForceFree™ Method. All behavior issues are covered, including housebreaking if it's a problem. And remember...the training is GUARANTEED for the lifetime of your dog.
Drop 'N Shop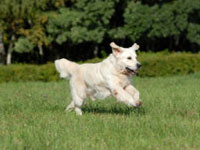 Drop 'N Shop 
Option 2. Drop 'N Shop Training: The immediate solution for rowdiness! Drop your dog off for two hours on four consecutive days. Just head to the mall, or do some grocery shopping. We'll train for excellent on leash manners. Plus you'll get a reliable off leash recall...even under distracting conditions. That's right! No more pulling. You can also play with your loose dog. He'll always come when called. Call for availability. This program is appropriate for dogs who are not aggressive and are 6 months or older. Bartlett location.
Please call us at 800-516-0001 for more information.
Private Lessons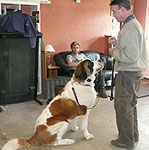 Private Lessons 
Option 3. Private Lesson Program: For those who wish to invest a bit of their own time and achieve savings. A series of six ForceFree™ lessons at our location teaches your dog excellent behavior that lasts. Most clients see dramatic improvements within two weeks. We'll do a demonstration with your dog, and if you're not amazed, you owe nothing! Covered are: leash manners, ignoring other dogs and people, jumping, mouthing, sit, down, stay, and come (on and off leash). Call for availability.
Please call us at 800-516-0001 for more information.
Pack Leader Session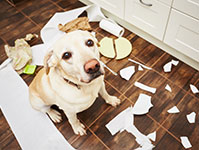 Pack Leader Session 
Option 4. Pack Leader Session: We'll meet and evaluate your dog so we can tell you "WHY your dog is doing that." Together, we design a program you can do at home, calling in to report and discuss progress. Come for two hours and leave many of your problems behind. Call for details and to see if this option is appropriate for you.
Please call us at 800-516-0001 for more information.
Potty Camp™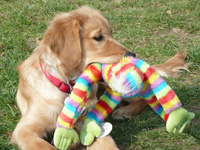 Potty

Camp™ Housebreaking Program

Option 5. : If you have a house breaking problem, our Potty Camp program is the answer! Virtually every puppy and dog can be trained to be clean in the home. If you need us, we're ready to help you get this job done! Potty Camp not only gets you the help you need, it's FUN for your puppy! We can even teach your pup to use a litter box.
Travel 'N Train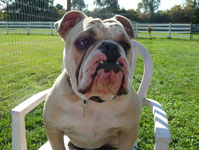 Travel 'N Train
Option 7. Travel 'N Train: We can travel to your location and train at your home, business, or vacation home...wherever your dog enjoys life with you, domestic or international. While this service is not for everyone, it is an excellent option for those who travel extensively with their dogs. Training may include but is not limited to training for good behavior on private planes or jets, and total off leash reliability on the beach and with horses. This training program is customized according to your lifestyle. Call for fees and availability.
Please call us at 800-516-0001 for more information.