MARC GOLDBERG

chicagodogtrainer.com
Call: 800-516-0001
--------------------------
Our Philosophy & Goals
Our philosophy is simple. Improve the life of both dog and family. All too often, unruly dogs do not fully enjoy life because their families constantly become upset and frustrated with them. This is difficult for both family and dog.
 
Our mission is simple. Make both dog and family happy.
 
What does is take to make your dog happy? He will thrive when you give him leadership and attention.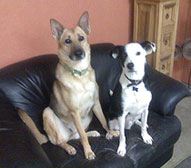 Making the family happy is a bit more complex.
Families typically want their dog to:
Come when called, every time, on or off leash
Walk nicely on a loose leash without pulling
Sit until released
Down until released
Families also want their dogs:
Not to jump on people
Not to charge through doors
Not to dig in the garden
Not to bark and chew  inappropriately
Not to climb on furniture you prefer they avoid
Not to sniff and eat off the table and counters.
Not to be wild and uncontrollable
Not to ignore you when you want their attention 
Housebreaking 101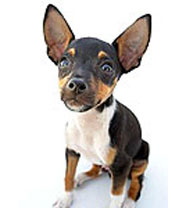 Want to housebreak your own puppy or adult dog? Save thousands of dollars in damage. Don't get mad....get help! Housebreaking 101 gives you step by step instructions on the easiest way to housebreak your puppy or grown dog. Works for most dogs!  You'll see lots of improvement, even if you've been struggling. Marc Goldberg's tips troubleshooting tips are included. The Potty Game changes training from frustration to fun. Only $5.99!
Faris is an adorable mix between Pug and Beagle, so his owners call him a Puggle!
 
This inquisitive, headstrong little guy has a very affectionate but stubborn personality. His owners really wanted him to be reliable off leash so they would be sure he'd come when called. They also wanted him to stay off the furniture. And most importantly of all, they wanted him to stop nipping at their young son when dog and boy ran around together.
 
The whole family was pleased when Faris came home only two weeks later with the same bubbly personality, but now completely under control. He does not climb on the furniture, no longer bolts through open doors, doesn't nip, and comes when called off leash.
 
He does lots more cool stuff, but those are the things the family most wanted.
Dear Marc,
 
Just wanted to drop you a note that we are very pleased with the way Cleo is behaving now.  Occasionally she tests us, especially when it comes to food, but she is understanding her new routine and follows me everywhere!  The whole family is enjoying being with her. Everyone gives her walks and takes her with them when going out.  She no longer has to be crated because we can't tolerate her behavior in a particular situation - she just chooses to go to her crate when we aren't around.  It truly has improved her quality of life and ours with her.
 
Thank you!
Tux (black) and Buster (buff) are Cocker Spaniels with two totally different attitudes on life. Tux is a timid people lover, while Buster is a confident, more reserved dog. Yet, when together on leash, both were habitually leash aggressive toward children, strollers and bikes. Plus they both used to try and eat off the counters and table, and got up on the good couch and chairs. Buster might growl when told to get down. Neither dog was reliable about coming when called off leash.
The family lives only a few doors from a church and school so the leash aggression became quite a problem. It was a chore to walk the dogs when people were around. Ten days later, we returned two happy little dogs and immediately walked them through a crowd of children, strollers and bikes. Their owner was thrilled when neither dog became aggressive at all. Released off leash, both dogs walked the churchyard, staying with us the whole time, and happily coming to their owner when called.
Then we brought the dogs inside and showed the client that her counters, table and good furniture were now understood by the dogs to be off limits. Finally, we showed the dogs that the other couch was ok to sit on "by invitation only." We left the family content that instead of constantly conflicting with their dogs, they could now simply enjoy them.
Roxy is a lovely Golden Retriever who understood everything that her owner, a restaurant chain owner, wanted her to do. She also understood she could ignore him whenever she chose....despite having been trained for weeks by a different training school.
 
Roxy came to us with one particularly bad habit. She had begun to bark, growl, jump and bite at her owner whenever she wanted attention. The biting was escalating to the point where she was leaving bruises.
 
Ten days later Roxy went home a changed--and happier--dog who understands how to ask for attention politely. She pays attention to her owner when he needs her. And he can now take her out off leash, knowing she will come when he calls her.
 
Roxy's owner says the difference "is just amazing."
<< Start < Prev 1

2

3 4 Next > End >>


Page 2 of 4
Boarding School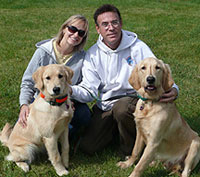 Boarding School
Option 1. Boarding School: In only two weeks, your dog comes home trained to be a happy, polite companion...on and off leash. The investment for our boarding school program pays off for a lifetime. You'll be able to go everywhere together. That's because we only use our amazing ForceFree™ Method. All behavior issues are covered, including housebreaking if it's a problem. And remember...the training is GUARANTEED for the lifetime of your dog.
Drop 'N Shop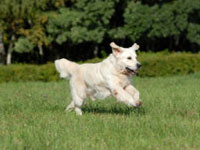 Drop 'N Shop 
Option 2. Drop 'N Shop Training: The immediate solution for rowdiness! Drop your dog off for two hours on four consecutive days. Just head to the mall, or do some grocery shopping. We'll train for excellent on leash manners. Plus you'll get a reliable off leash recall...even under distracting conditions. That's right! No more pulling. You can also play with your loose dog. He'll always come when called. Call for availability. This program is appropriate for dogs who are not aggressive and are 6 months or older. Bartlett location.
Please call us at 800-516-0001 for more information.
Private Lessons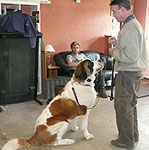 Private Lessons 
Option 3. Private Lesson Program: For those who wish to invest a bit of their own time and achieve savings. A series of six ForceFree™ lessons at our location teaches your dog excellent behavior that lasts. Most clients see dramatic improvements within two weeks. We'll do a demonstration with your dog, and if you're not amazed, you owe nothing! Covered are: leash manners, ignoring other dogs and people, jumping, mouthing, sit, down, stay, and come (on and off leash). Call for availability.
Please call us at 800-516-0001 for more information.
Pack Leader Session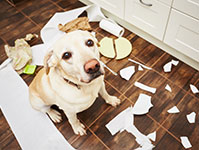 Pack Leader Session 
Option 4. Pack Leader Session: We'll meet and evaluate your dog so we can tell you "WHY your dog is doing that." Together, we design a program you can do at home, calling in to report and discuss progress. Come for two hours and leave many of your problems behind. Call for details and to see if this option is appropriate for you.
Please call us at 800-516-0001 for more information.
Potty Camp™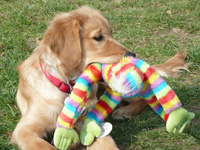 Potty

Camp™ Housebreaking Program

Option 5. : If you have a house breaking problem, our Potty Camp program is the answer! Virtually every puppy and dog can be trained to be clean in the home. If you need us, we're ready to help you get this job done! Potty Camp not only gets you the help you need, it's FUN for your puppy! We can even teach your pup to use a litter box.
Travel 'N Train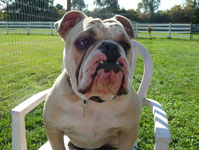 Travel 'N Train
Option 7. Travel 'N Train: We can travel to your location and train at your home, business, or vacation home...wherever your dog enjoys life with you, domestic or international. While this service is not for everyone, it is an excellent option for those who travel extensively with their dogs. Training may include but is not limited to training for good behavior on private planes or jets, and total off leash reliability on the beach and with horses. This training program is customized according to your lifestyle. Call for fees and availability.
Please call us at 800-516-0001 for more information.