MARC GOLDBERG

chicagodogtrainer.com
Call: 800-516-0001
--------------------------
Our Philosophy & Goals
Our philosophy is simple. Improve the life of both dog and family. All too often, unruly dogs do not fully enjoy life because their families constantly become upset and frustrated with them. This is difficult for both family and dog.
 
Our mission is simple. Make both dog and family happy.
 
What does is take to make your dog happy? He will thrive when you give him leadership and attention.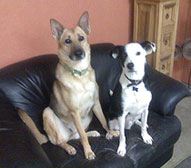 Making the family happy is a bit more complex.
Families typically want their dog to:
Come when called, every time, on or off leash
Walk nicely on a loose leash without pulling
Sit until released
Down until released
Families also want their dogs:
Not to jump on people
Not to charge through doors
Not to dig in the garden
Not to bark and chew  inappropriately
Not to climb on furniture you prefer they avoid
Not to sniff and eat off the table and counters.
Not to be wild and uncontrollable
Not to ignore you when you want their attention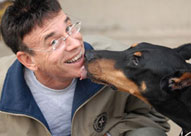 What our clients say...
"You're a miracle worker!"
Brett

"I can see she just loves you."
Elizabeth
Click here to read Bella's Story

"Marc, I must say you are an amazing individual.  I have never seen nor heard of anyone who is able to communicate with dogs this well."
Aaron & Jenny
"She's better than we ever thought she could be."
Tish
"She's like a dream dog. We can take her to PetSmart now and she behaves. It's amazing!"
Andrea
"He's 100% better. I always loved my dog. Now I can trust him too."
Paris


"For once I am not embarrassed, but proud!! I can tell he is a much happier pet. Thank you!!"
Cathi

"Every day is a good day for Zoey! She is such a happy little dog and so well behaved.  She has learned not to bark at the roofer, the painter, the house siding crew, the window man, the neighbor ...."
Anne
Ring the Potty Bell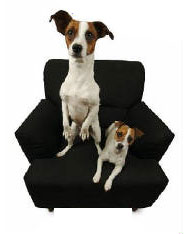 Teach your Dog to Ring the Potty Bell! One of the most useful tricks a dog can learn is to ring a bell when it's time to "go!" Not only can you teach Marc Goldberg's handy alert system to YOUR dog or young puppy, but you can accomplish the training in two weeks or less. We teach you how to teach your dog to Ring the Potty Bell as a simple game making it fun for both of you. Never miss another potty break...now your dog will give you a jingle! Only $5.99.
Housebreaking 101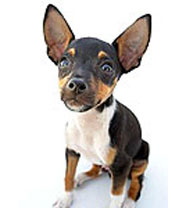 Want to housebreak your own puppy or adult dog? Save thousands of dollars in damage. Don't get mad....get help! Housebreaking 101 gives you step by step instructions on the easiest way to housebreak your puppy or grown dog. Works for most dogs!  You'll see lots of improvement, even if you've been struggling. Marc Goldberg's tips troubleshooting tips are included. The Potty Game changes training from frustration to fun. Only $5.99!
Trainers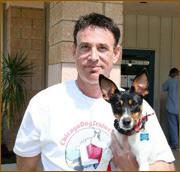 What does it take to offer the best dog training in Chicago? Sensitivity to both dogs and people. Education and credentials. The ability to motivate and gently improve your dog's behavior. Execellent communication skills. The ability to deliver. And most important of all, an abiding love for all dogs.

Marc Goldberg, CDT is a certified dog trainer, and president of the International Association of Canine Professionals. To learn more about the IACP, an organization of over 1,200 members worldwide, please visit http://www.dogpro.org
---
Marc's story began in 1969 when his first dog, Gus, came in to his life. Gus ran out into the street one day and was hit by a car. Fortunately, he survived. When he was healed up, Marc's mother shipped both boy and dog off to dog training school. Mentored by some of the finest dog trainers in the nation, Marc's career in dig training began at the age of 12. He hasn't looked back since!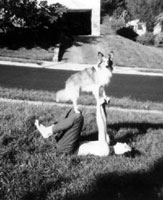 Marc isn't your typical dog trainer. Typically, dog trainers try to sell you specific dog training behaviors such as heel, sit, down, stay and come. Oh, you want your dog to come when off leash? You'd like your dog to stop lunging and growling at other dogs? You need your dog to stop using your home for a bathroom? You could be looking at week after week of lessons, lots of corrections or tons of food bribery.

I'm not the average dog trainer. I don't sell dog training behaviors. I want to deliver you the dream...the dream of a profound and loving relationship with your dog. When dog and human are in a deep relationship, each meets the needs of the other.

Fulfilled dogs do not lunge, bark incessantly, chew your belongings, ignore you. Happy dogs get to run off leash at every opportunity at one of Chicago's beaches, dog parks, on in their Chicagoland yards. Contented dogs come when you call them, walk nicely on the leash, and never need corrections or yelling.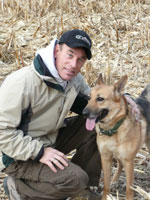 That's why I train with my signature ForceFree Method™. We simply harness the power of Pack Drive...your dog's natural instinct to follow the Leader. That Leader can be you.
Training dogs in Chicago is my specialty and our privilege. I'm here to help you with all your Chicago dog training problems!

Your dog spends two fun, activity filled weeks at my home, then a lifetime of fulfillment in yours! It's Force Free, and gives you total control of your dog on and off leash. Best of all, I make it fun and it's guaranteed for the life of your dog.
The ForceFree Method™ is an intuitive system of training that makes sense to both people and dogs. Effective and gentle, the training method works WITH the dogs instincts rather than against them. I achieve off leash reliability, even with distractions, amazingly fast. Most dogs perceive the training as simple "pack cooperation" and play. Therefore, they quickly shed rebellious behavior, and give you more focus than you imagined possible. Doesn't that sound like more fun than correction after correction?
Why do I train dogs?
Dogs are honest.
Dogs love without condition.
Dogs try to teach me the same.
Dogs adore me with their eyes.
Dogs want to learn what will make me happy.
Pleasing me makes them happy.
Dogs love me more than they love themselves.
My old dogs come to me over the Rainbow Bridge while I sleep.

Patrick Farrell works closely with Marc Goldberg, running their Dog Psychology Farm together. A fine touch with both dogs and people, Patrick enjoys helping our clients find harmony with their dogs.
He loves biking with dogs to help them learn focused exercise, and teaches Fetch to dogs who come to us playing a different game... Keep Away.
Patrick's experience, compassion and training skills combine to create a Chicago dog trainer who you'll want to know.
Nadine Onesti - Potty Camp Director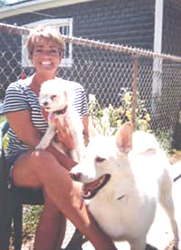 Nadine Onesti is our beloved Potty Camp Director. Clients all over the midwest are greatful to Nadine for showing their puppies where to "do it." Nadine is so wonderful with puppies, puppy training and house training that we call her Doctor Potty! Her television credits include Fox News.

Nadine, a graduate of Animal Behavior College also trains adult dogs in our Boarding School Program. When not training puppies and dogs she is a Canine Good Citizen evaluator for the AKC. "I love working with puppies and especially the little ones. It is especially rewarding for me to help owners and their dogs work towards that special bond that is so important," Nadine says.
Read more about our Potty Camp Housbreaking Program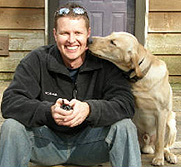 Scott Harris was honorably discharged from the Navy where he served his country as a radar technician. Since then, Scott split his time between his job as an outdoor adventure instructor and helping friends and family with their dogs, as well as training his personal dog. During this time he formed K-9 Fence, Inc. and moved to St. Louis. His years with K-9 Fence presented many opportunities to work with excellent trainers in the St. Louis area, as well as providing the opportunity to help hundreds of pet owners every year. While in St. Louis, one of the trainers Scott had the pleasure of working with was Tom Sorrensen, who won the National Retriever Championship in 1973 and is a member of the Retriever Trainer's Hall of Fame. He served as Tom's assistant, training and caring for more than 150 dogs that were boarded at his kennel. Since then Scott has become a gifted trainer in his own right helping many Chicago area dogs and their humans.
What kind of dogs do I train?
SCENTHOUND BREEDS

Alpine Dachsbracke
American Black & Tan Coonhound
American Foxhound
Anglo-Francais de Moyen Venerie
Anglo-Francais de Petit Venerie
Ariegeois
Basset Artesien Normand
Basset Bleu de Gascogne
Basset Fauve De Bretagne
Basset Hound
Bavarian Mountain Hound
Beagle
Beagle Harrier
Billy
Black Forest Hound
Black Mouth Cur
Bloodhound
Bluetick Coonhound
Briquette Griffon Vendeen
Chien D'Artois
Chien Francais Blanc et Noir
Chien Francais Black et Orange
Chien Francais Tricolore
Dachshund
Deutsche Bracke
Drever
Dunker
English Coonhound
English Foxhound
Estonian Hound
Finnish Hound
Grand Anglo-Francais
Grand Basset Griffon Vendeen
Grand Bleu de Gascogne
Grand Gascon-Saintongeois
Grand Griffon Vendeen
Griffon Fauve de Bretegne
Griffon Nivernais
Hamiltonstovare
Hanoverian Hound
Harrier
Large Spanish Hound
(Sabueso Espanol de Monte)
Leopard Cur
Mountain Cur
Otterhound
Petit Basset Griffon Vendeen
Petit Bleu de Gascone
Petit Gascon-Saintongeois
Petit Griffon Bleu de Gascogne
Plott Hound
Poitevin
Polish Hound
Porcelaine
Redbone Coonhound
Small Spanish Hound
(Sabueso Espanol Lebero)
Stephens' Cur
Treeing Cur
Treeing Walker Coonhound
Welsh Hound

SCENTHOUNDS AND PARIAH DOGS

Afghan Hound
Azawakh
Basenji
Borzoi
Canaan Dog
Carolina Dog
Chart Polski
Greyhound
Ibizan Hound
Irish Wolfhound
New Guinea Singing Dog
Pharaoh Hound
Podengo Portugueso
Rhodesian Ridgeback
Saluki
Scottish Deerhound
Sloughi
Spanish Greyhound
Thai Ridgeback
Whippet
Xoloitzcuintli




GUN DOG BREEDS

American Water Spaniel
Barbet
Boykin Spaniel
Bracco Italiano
Braque D'Auvergne
Braque du Bourbonnais
Braque Francais, de Grande Taille
Braque Francais, de Petite Taille
Braque Saint-Germain
Brittany Spaniel
Cesky Fousek
Chesapeake Bay Retriever
Clumber Spaniel
Cocker Spaniel
Curly-Coated Retriever
Deutscher Wachtelhund (German Spaniel)
Drentse Patrijshond
English Cocker Spaniel
English Pointer
English Setter
English Springer Spaniel
Epagneul Blue de Picardie
Epagneul Breton
Epagneul Picard
Epagneul Pont-Audemer
Field Spaniel
Flat-coated Retriever
French Spaniel (Epagneul Francais)
German Longhaired Pointer
German Shorthaired Pointer
German Wirehaired Pointer
Golden Retriever
Gordon Setter
Irish Red & White Setter
Irish Setter
Irish Water Spaniel
Kooikerhondje
Labrador Retriever
Large Munsterlander
Novia Scotia Duck Tolling Retriever
Old Danish Bird Dog
Perdiguero de Burgos
Perdiguero Navarro
Portuguese Pointer (Perdiguero Portugueso)
Portuguese Water Dog
Pudelpointer
Small Munsterlander
Spanish Water Dog
Spinone Italiano
Stabyhoun
Standard Poodle
Sussex Spaniel
Vizsla
Weimaraner
Welsh Springer Spaniel
Wirehaired Pointing Griffon

NORTHERN BREEDS

Ainu
Akita
Alaskan Klee Kai
Alaskan Malamute
American Eskimo
Canadian Eskimo Dog
Chinese Shar-Pei
Chinook
Chow Chow
East Siberian Laika
Eurasian
Finnish Lapphund
Finnish Spitz
Greenland Dog
Iceland Dog
Jindo
Kai
Karelian Bear Dog
Keeshond
Lundehund
Norbottenspets
Norwegian Buhund
Norwegian Elkhound
Russo-European Laika
Samoyed
Shiba
Siberian Husky
Swedish Lapphund
West Siberian Laika

COMPANION BREEDS

Affenpinscher
Bichon Frise
Bolognese
Boston Terrier
Brussels Griffon
Cavalier King Charles Spaniel
Chihuahua
Chinese Crested
Coton de Tulear
Dalmatian
English Bulldog
English Toy Spaniel
French Bulldog
Havanese
Italian Greyhound
Japanese Chin
Lhasa Apso
Lowchen
Maltese
Miniature Pinscher
Papillon
Pekingese
Peruvian Inca Orchid
Pomeranian
Poodle (Miniature & Toy)
Pug
Schipperke
Shih Tzu
Tibetan Spaniel
Tibetan Terrier
Yorkshire Terrier

GUARDIAN DOGS

Akbash Dog
American Bulldog
Anatolian Shepherd
Appenzeller
Bernese Mountain Dog
Black Russian Terrier
Boxer
Bull Mastiff
Caucasian Ovtcharka
Central Asian Shepherd Dog
Danish Broholmer
Doberman Pinscher
Dogo Argentino
Dogue de Bordeaux
Entlebucher
Estrela Mountain Dog
Great Dane
Great Pyrenees
Greater Swiss Mountain Dog
Hovawart
Kangal Dog
Komondor
Krasky Ovcar
Kuvasz
Leonberger
Maremma Sheepdog
Mastiff
Neapolitan Mastiff
Newfoundland
Owczarek Podhalanski
Perro de Presa Canario
Rottweiler
Saint Bernard
Sarplaninac
Slovac Cuvac
South Russian Ovcharka
Spanish Mastiff
Tibetan Mastiff
Tosa Ken

TERRIERS

Airedale Terrier
American Hairless Terrier
American Pit Bull Terrier
Australian Terrier
Bedlington Terriers
Border Terrier
Bull Terrier
Cairn Terrier
Cesky Terrier
Dandie Dinmont Terrier
German Pinscher
Glen of Imaal Terrier
Irish Terrier
Jack Russell Terrier
Jagdterrier
Kerry Blue Terrier
Kromfohrlander
Lakeland Terrier
Manchester Terrier
Miniature Bull Terrier
Miniature Schnauzer
Norfolk Terrier
Norwich Terrier
Patterdale Terrier
Rat Terrier
Russell Terrier
Scottish Terrier
Sealyham Terrier
Silky Terrier
Skye Terrier
Smooth Fox Terrier
Soft-Coated Wheaten Terrier
Sporting Lucas Terrier
Staffordshire Bull Terrier
Teddy Roosevelt Terrier
Toy Fox Terrier
Treeing Feist
Welsh Terrier
West Highland White Terrier
Wire Fox Terrier

HERDING DOG BREEDS

Australian Cattle Dog
Australian Kelpie
Australian Shepherd
Bearded Collie
Beauceron
Belgian Shepherd Dog
(Groenendael, Laekenois,
Malinois, Tervueren)
Bergamasco
Berger Picard
(Picardy Shepherd)
Berger de Pyrenees
Border Collie
Bouvier Des Flandres
Briard
Collie
Dutch Shepherd
English Shepherd
German Shepherd Dog
Giant Schnauzer
Louisiana Catahoula
Leopard Dog
Mudi
Old English Sheep Dog
Polski Owczarek Nizinny
Puli
Pumi
Schapendoes
Shetland Sheepdog
Standard Schnauzer
Stumpy Tail Cattle Dog
Swedish Vallhund
Welsh Corgi-Cardigan
Welsh Corgi-Pembroke
White Shepherd
Boarding School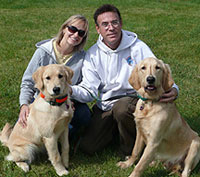 Boarding School
Option 1. Boarding School: In only two weeks, your dog comes home trained to be a happy, polite companion...on and off leash. The investment for our boarding school program pays off for a lifetime. You'll be able to go everywhere together. That's because we only use our amazing ForceFree™ Method. All behavior issues are covered, including housebreaking if it's a problem. And remember...the training is GUARANTEED for the lifetime of your dog.
Drop 'N Shop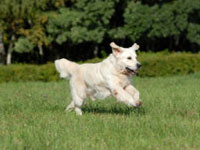 Drop 'N Shop 
Option 2. Drop 'N Shop Training: The immediate solution for rowdiness! Drop your dog off for two hours on four consecutive days. Just head to the mall, or do some grocery shopping. We'll train for excellent on leash manners. Plus you'll get a reliable off leash recall...even under distracting conditions. That's right! No more pulling. You can also play with your loose dog. He'll always come when called. Call for availability. This program is appropriate for dogs who are not aggressive and are 6 months or older. Bartlett location.
Please call us at 800-516-0001 for more information.
Private Lessons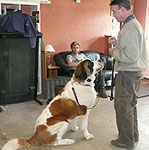 Private Lessons 
Option 3. Private Lesson Program: For those who wish to invest a bit of their own time and achieve savings. A series of six ForceFree™ lessons at our location teaches your dog excellent behavior that lasts. Most clients see dramatic improvements within two weeks. We'll do a demonstration with your dog, and if you're not amazed, you owe nothing! Covered are: leash manners, ignoring other dogs and people, jumping, mouthing, sit, down, stay, and come (on and off leash). Call for availability.
Please call us at 800-516-0001 for more information.
Pack Leader Session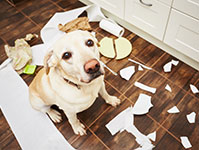 Pack Leader Session 
Option 4. Pack Leader Session: We'll meet and evaluate your dog so we can tell you "WHY your dog is doing that." Together, we design a program you can do at home, calling in to report and discuss progress. Come for two hours and leave many of your problems behind. Call for details and to see if this option is appropriate for you.
Please call us at 800-516-0001 for more information.
Potty Camp™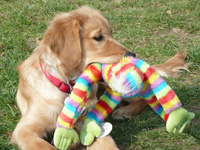 Potty

Camp™ Housebreaking Program

Option 5. : If you have a house breaking problem, our Potty Camp program is the answer! Virtually every puppy and dog can be trained to be clean in the home. If you need us, we're ready to help you get this job done! Potty Camp not only gets you the help you need, it's FUN for your puppy! We can even teach your pup to use a litter box.
Travel 'N Train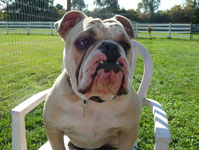 Travel 'N Train
Option 7. Travel 'N Train: We can travel to your location and train at your home, business, or vacation home...wherever your dog enjoys life with you, domestic or international. While this service is not for everyone, it is an excellent option for those who travel extensively with their dogs. Training may include but is not limited to training for good behavior on private planes or jets, and total off leash reliability on the beach and with horses. This training program is customized according to your lifestyle. Call for fees and availability.
Please call us at 800-516-0001 for more information.