MARC GOLDBERG

chicagodogtrainer.com
Call: 800-516-0001
--------------------------
What our clients say...
"You're a miracle worker!"
Brett

"I can see she just loves you."
Elizabeth
Click here to read Bella's Story

"Marc, I must say you are an amazing individual.  I have never seen nor heard of anyone who is able to communicate with dogs this well."
Aaron & Jenny
"She's better than we ever thought she could be."
Tish
"She's like a dream dog. We can take her to PetSmart now and she behaves. It's amazing!"
Andrea
"He's 100% better. I always loved my dog. Now I can trust him too."
Paris


"For once I am not embarrassed, but proud!! I can tell he is a much happier pet. Thank you!!"
Cathi

"Every day is a good day for Zoey! She is such a happy little dog and so well behaved.  She has learned not to bark at the roofer, the painter, the house siding crew, the window man, the neighbor ...."
Anne
Ring the Potty Bell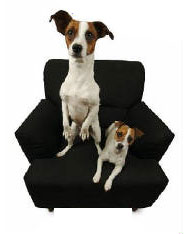 Teach your Dog to Ring the Potty Bell! One of the most useful tricks a dog can learn is to ring a bell when it's time to "go!" Not only can you teach Marc Goldberg's handy alert system to YOUR dog or young puppy, but you can accomplish the training in two weeks or less. We teach you how to teach your dog to Ring the Potty Bell as a simple game making it fun for both of you. Never miss another potty break...now your dog will give you a jingle! Only $5.99.
When I am in any social setting and I am asked "What do you do?" my response always turns the conversation to dogs. Someone always volunteers a lot of information about their dog or past dogs. I usually enjoy that since I love all things dog. However, I am often reminded of the many misconceptions people have about their pets.
One of the most common ones I hear is "Everyone knows you can't go near dog when he is eating." I usually say something neutral like "Well, it could be dangerous with some dogs, it all depends." But such conversations leave me a bit concerned.
The truth is, there is no reason at all you shouldn't be able to approach your dog's food dish while he is eating. In fact, there is no reason you shouldn't be able to take food from your dog's mouth if you want to. I try not to think about how many people are injured each year because someone accepted food aggression from their dog because they thought it was "normal". Food aggression may be normal, but it is not acceptable. Responsible dog ownership requires that we fix this problem, and we fix it right.
There are many ways to deal with food aggression but for most dogs it begins with building the right relationship. A good leadership program is a great place to start as is a good obedience program.
Let me also say that we should be respectful of our dog's space at all times. That doesn't mean we let him dictate how and when we touch him, or let him tell us we can't be near his bowl. But we need to be aware of what our dogs are telling us, and respond in a manner that is respectful if not compliant.
Until trust is established, the food bowl is a potential danger area, and the last thing we want is to start a fight over the food. As always, in Chicago dog training, we want to set the dog up for success, not failure. We don't want to push the issue in a way that is push the dog towards aggression. Once the situation escalates into violence, everything becomes much more complex. So we don't want to just rush up on the food bowl and insist that the dog accept our presence. That might work, but it might backfire. Better to be safe.
I like to begin by calling the dog away from the food bowl. A 10 or 15 foot line might be in order to help teach this behavior. I will call the dog's name and apply some gentle leash pressure pulling the dog towards me. As soon as he starts to come my way (by his own choice) I let the leash go slack and continue to encourage the dog. When he gets to me I will have an incredibly tasty treat waiting for him. So he learns that giving something up for me often means he gets something better. In other words, he isn't giving anything up, he's simply trading up!
When the dog is readily coming away from the dish to be with me, I will move to the next step. I will begin approaching the dog while he is eating. When he looks up at me, I will call him as I did before, using the leash gently--if necessary--and giving him a tidbit when he does.
From there, I move right next to the dog while he is eating. If he looks up curiously, I will give him the tidbit and allow him to go right back to eating. If he growls or snarls, I will take his leash and walk him away from the food for a bit. We can try again later. I never yell, or threaten we just go away from the food.
Next we apply the same principle to touching the dog while he eats, and finally, we will take his food away.
This process may take a few minutes, or a few weeks depending on how deeply rooted the behavior is, but the principles don't change.
What I don't do is just as important as what I do. I don't stick my hand in the bowl every meal and constantly play with the food while the dog is trying to eat. I don't snatch the bowl away randomly over and over again during the meal. I don't poke and prod the dog while he is eating. Any of these human behaviors can accidentally create food aggression. If you and I go out to eat together, there are only so many times I'll let you play with my French fries before I stab you with a fork!
Be consistent and fair, and there is no reason you have to worry about someone approaching your dog while he is eating. On the other hand, if your dog is growling at you because of food aggression, please call us right now. As Chicago's Dog Trainer, we can help turn that problem around so you'll have a good Chicago dog who will let you near his food.
Call: 800-516-0001

© Marc Goldberg. All rights reserved.
<< Start < Prev 1 2 3 4 5

6

7 8 9 10 Next > End >>


Page 6 of 20

Boarding School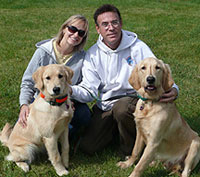 Boarding School
Option 1. Boarding School: In only two weeks, your dog comes home trained to be a happy, polite companion...on and off leash. The investment for our boarding school program pays off for a lifetime. You'll be able to go everywhere together. That's because we only use our amazing ForceFree™ Method. All behavior issues are covered, including housebreaking if it's a problem. And remember...the training is GUARANTEED for the lifetime of your dog.
Drop 'N Shop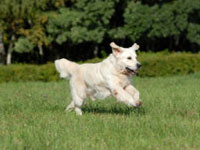 Drop 'N Shop 
Option 2. Drop 'N Shop Training: The immediate solution for rowdiness! Drop your dog off for two hours on four consecutive days. Just head to the mall, or do some grocery shopping. We'll train for excellent on leash manners. Plus you'll get a reliable off leash recall...even under distracting conditions. That's right! No more pulling. You can also play with your loose dog. He'll always come when called. Call for availability. This program is appropriate for dogs who are not aggressive and are 6 months or older. Bartlett location.
Please call us at 800-516-0001 for more information.
Private Lessons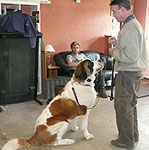 Private Lessons 
Option 3. Private Lesson Program: For those who wish to invest a bit of their own time and achieve savings. A series of six ForceFree™ lessons at our location teaches your dog excellent behavior that lasts. Most clients see dramatic improvements within two weeks. We'll do a demonstration with your dog, and if you're not amazed, you owe nothing! Covered are: leash manners, ignoring other dogs and people, jumping, mouthing, sit, down, stay, and come (on and off leash). Call for availability.
Please call us at 800-516-0001 for more information.
Pack Leader Session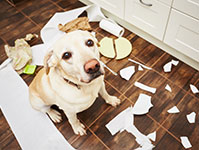 Pack Leader Session 
Option 4. Pack Leader Session: We'll meet and evaluate your dog so we can tell you "WHY your dog is doing that." Together, we design a program you can do at home, calling in to report and discuss progress. Come for two hours and leave many of your problems behind. Call for details and to see if this option is appropriate for you.
Please call us at 800-516-0001 for more information.
Potty Camp™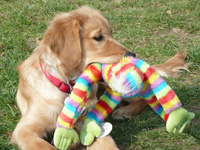 Potty

Camp™ Housebreaking Program

Option 5. : If you have a house breaking problem, our Potty Camp program is the answer! Virtually every puppy and dog can be trained to be clean in the home. If you need us, we're ready to help you get this job done! Potty Camp not only gets you the help you need, it's FUN for your puppy! We can even teach your pup to use a litter box.
Travel 'N Train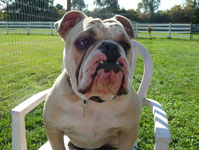 Travel 'N Train
Option 7. Travel 'N Train: We can travel to your location and train at your home, business, or vacation home...wherever your dog enjoys life with you, domestic or international. While this service is not for everyone, it is an excellent option for those who travel extensively with their dogs. Training may include but is not limited to training for good behavior on private planes or jets, and total off leash reliability on the beach and with horses. This training program is customized according to your lifestyle. Call for fees and availability.
Please call us at 800-516-0001 for more information.