MARC GOLDBERG

chicagodogtrainer.com
Call: 800-516-0001
--------------------------
What our clients say...
"You're a miracle worker!"
Brett

"I can see she just loves you."
Elizabeth
Click here to read Bella's Story

"Marc, I must say you are an amazing individual.  I have never seen nor heard of anyone who is able to communicate with dogs this well."
Aaron & Jenny
"She's better than we ever thought she could be."
Tish
"She's like a dream dog. We can take her to PetSmart now and she behaves. It's amazing!"
Andrea
"He's 100% better. I always loved my dog. Now I can trust him too."
Paris


"For once I am not embarrassed, but proud!! I can tell he is a much happier pet. Thank you!!"
Cathi

"Every day is a good day for Zoey! She is such a happy little dog and so well behaved.  She has learned not to bark at the roofer, the painter, the house siding crew, the window man, the neighbor ...."
Anne
Ring the Potty Bell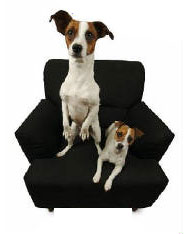 Teach your Dog to Ring the Potty Bell! One of the most useful tricks a dog can learn is to ring a bell when it's time to "go!" Not only can you teach Marc Goldberg's handy alert system to YOUR dog or young puppy, but you can accomplish the training in two weeks or less. We teach you how to teach your dog to Ring the Potty Bell as a simple game making it fun for both of you. Never miss another potty break...now your dog will give you a jingle! Only $5.99.
Choosing a Dog Training Collar
By Marc Goldberg, CDT
© 2009 Marc Goldberg. All rights reserved.
There are a variety of collars, you can use for your dog. Each color type has its own advantages and disadvantages. Choosing the right dog training collar depends on your dog's temperament, and the job you are trying to do. Collars belong to two different categories: static or dynamic. Static collars or buckle collars are dog collars that remain fixed in diameter on the dog's neck. These are the collars you would typically keep your dog tags on. They may be used on a leash or for a temporary tie out, but are not very useful for most training purposes. Dynamic collars are collars whose diameter changes when pressure is applied. The most common example of a dynamic collar is the so-called choke chain.
In nearly all instances, a dynamic collar is preferred to a static collar while training your dog because a dynamic collar actually puts less stress on your dog's trachea than a static collar. This is because of the way the force is distributed around the dog's neck. Instead of being absorbed entirely in the trachea, pressure is spread out.
"Choke chain." The most common type of dynamic training collar is commonly referred to as a choke chain. It may also be called a slip collar or a slip chain. The slip chain is a common tool and is widely used and has been for many years. One of the reasons it is so popular is that it is relatively cheap and simple to use. This collar however, does not give a tremendous mechanical advantage, and therefore may not be the best choice for a large unruly dog. Also, used incorrectly by the average dog owner, the choke chain can turn into a strangle collar, unpleasant for both dog and owner.
Martingale collar. A less common form of dynamic collar is what is referred to as a martingale collar or a limited slip choke chain. These collars are generally made of nylon with a chain loop linking the two ends of the nylon. The leash is attached to the chain loop and when pulled it tightens the nylon around the dog's neck. This collar gives even less of a mechanical advantage than the choke chain, and it can be difficult to fit properly. The advantage to this collar, is that there is a definite limit to how much pressure, you can put on the dog's trachea because the collar can only close to the specific diameter and no smaller. So, fitted correctly, this may be a good choice for giving a mild correction without choking the dog.
Pinch collar. For large and unruly dogs it is often a possible to go with a prong or pinch collar. There are two types of pinch collars that are popular today. The most common is the metal prong collar. These dog training collars have been around for a long time and are fairly readily available in pet stores everywhere. They offer a significant mechanical advantage, however, they can be difficult put on especially if you have weak or arthritic hands. Also, even though they are humane, they look like they are quite cruel, and can create a negative public perception. Finally, they are much more expensive than both the choke chain or the martingale. Proper use of the pinch collar never involves jerking the leash and hurting the dog. Think of this collar as providing power steering. A very small adjustment goes a long way. In short, the pinch collar—when used properly—can help you train your dog with no discomfort whatsoever. If you can't make it work, a good dog trainer can show you in moments.
Good Dog Collar. Another form of prong collar is the Good Dog collar. The Good Dog collar is essentially a plastic prong collar. It provides much of the same mechanical advantage of the traditional metal prong, but it is easier to put on the dog, and it looks less intimidating. The only disadvantages of this collar is that they can be hard to find and you have to get used to snapping it together or apart when putting it on or off.
There is no such thing as the perfect dog training collar. Ultimately, the right collar for you is the collar that works for your dog.

<< Start < Prev 1 2 3 4 5 6 7 8

9

10 Next > End >>


Page 9 of 20

Boarding School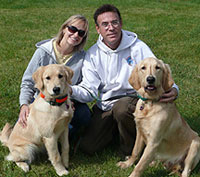 Boarding School
Option 1. Boarding School: In only two weeks, your dog comes home trained to be a happy, polite companion...on and off leash. The investment for our boarding school program pays off for a lifetime. You'll be able to go everywhere together. That's because we only use our amazing ForceFree™ Method. All behavior issues are covered, including housebreaking if it's a problem. And remember...the training is GUARANTEED for the lifetime of your dog.
Drop 'N Shop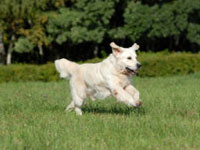 Drop 'N Shop 
Option 2. Drop 'N Shop Training: The immediate solution for rowdiness! Drop your dog off for two hours on four consecutive days. Just head to the mall, or do some grocery shopping. We'll train for excellent on leash manners. Plus you'll get a reliable off leash recall...even under distracting conditions. That's right! No more pulling. You can also play with your loose dog. He'll always come when called. Call for availability. This program is appropriate for dogs who are not aggressive and are 6 months or older. Bartlett location.
Please call us at 800-516-0001 for more information.
Private Lessons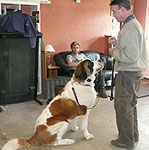 Private Lessons 
Option 3. Private Lesson Program: For those who wish to invest a bit of their own time and achieve savings. A series of six ForceFree™ lessons at our location teaches your dog excellent behavior that lasts. Most clients see dramatic improvements within two weeks. We'll do a demonstration with your dog, and if you're not amazed, you owe nothing! Covered are: leash manners, ignoring other dogs and people, jumping, mouthing, sit, down, stay, and come (on and off leash). Call for availability.
Please call us at 800-516-0001 for more information.
Pack Leader Session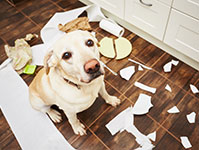 Pack Leader Session 
Option 4. Pack Leader Session: We'll meet and evaluate your dog so we can tell you "WHY your dog is doing that." Together, we design a program you can do at home, calling in to report and discuss progress. Come for two hours and leave many of your problems behind. Call for details and to see if this option is appropriate for you.
Please call us at 800-516-0001 for more information.
Potty Camp™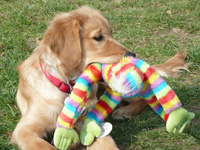 Potty

Camp™ Housebreaking Program

Option 5. : If you have a house breaking problem, our Potty Camp program is the answer! Virtually every puppy and dog can be trained to be clean in the home. If you need us, we're ready to help you get this job done! Potty Camp not only gets you the help you need, it's FUN for your puppy! We can even teach your pup to use a litter box.
Travel 'N Train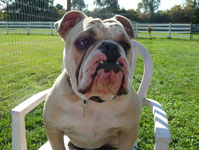 Travel 'N Train
Option 7. Travel 'N Train: We can travel to your location and train at your home, business, or vacation home...wherever your dog enjoys life with you, domestic or international. While this service is not for everyone, it is an excellent option for those who travel extensively with their dogs. Training may include but is not limited to training for good behavior on private planes or jets, and total off leash reliability on the beach and with horses. This training program is customized according to your lifestyle. Call for fees and availability.
Please call us at 800-516-0001 for more information.