MARC GOLDBERG

chicagodogtrainer.com
Call: 800-516-0001
--------------------------
What our clients say...
"You're a miracle worker!"
Brett

"I can see she just loves you."
Elizabeth
Click here to read Bella's Story

"Marc, I must say you are an amazing individual.  I have never seen nor heard of anyone who is able to communicate with dogs this well."
Aaron & Jenny
"She's better than we ever thought she could be."
Tish
"She's like a dream dog. We can take her to PetSmart now and she behaves. It's amazing!"
Andrea
"He's 100% better. I always loved my dog. Now I can trust him too."
Paris


"For once I am not embarrassed, but proud!! I can tell he is a much happier pet. Thank you!!"
Cathi

"Every day is a good day for Zoey! She is such a happy little dog and so well behaved.  She has learned not to bark at the roofer, the painter, the house siding crew, the window man, the neighbor ...."
Anne
Ring the Potty Bell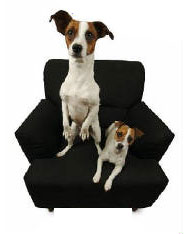 Teach your Dog to Ring the Potty Bell! One of the most useful tricks a dog can learn is to ring a bell when it's time to "go!" Not only can you teach Marc Goldberg's handy alert system to YOUR dog or young puppy, but you can accomplish the training in two weeks or less. We teach you how to teach your dog to Ring the Potty Bell as a simple game making it fun for both of you. Never miss another potty break...now your dog will give you a jingle! Only $5.99.
How I Spent My Summer Vacation
By Cooper of the North
BJ and Tom sure like driving. I don't mind it either. I get my own seat to sprawl out on and when the windows of the truck are open, I can stick my head out and feel the wind go through my ears. If we are going on a long trip to a new place, they usually pack something between their seat and mine, so as we ride, I can stand close and put my head on their shoulders. I have always liked riding in the truck, ever since the first time they brought me home when I was a pup. I rode for five hours and slept almost all the way, except when Tom played a song that made me think there was a loon inside the truck.
So, here we go again on another adventure. We are going to the Black Hills so Tom can run a marathon. I'll wait with BJ where people will pet me and tell me that I'm handsome (I already know that), but I would rather be running with Tom. I know I can handle the distance. I know I can. Maybe sometime, I'll just try!
After a long drive, we are now in a nice place called Theodore Roosevelt National Park. Seeing rolling hills and grassland as we drove was different from the woods I am used to. I could see forever, and Tom says he likes the blue. He calls it "Big Sky" country. We're staying near a creek under some cottonwood trees whose leaves make a swishing sound. BJ and Tom have been looking for a strange animal with horns that looks like a big brown cow. I'm glad we didn't see any. All I saw were little squirrels standing on their back legs in front of holes in the ground. BJ called them prairie dogs, but I'm pretty smart. They were not dogs. I wish I had a chance to chase them. I would show them what a real dog can do.
Tonight should be fun. I get to sleep in our new tent. We had hot dogs and beans for supper, so maybe it won't be so much fun after all.
Day 2 - Tom and I started our day with a run. It's great when we get to do that, but I would rather not be on a leash. We ran through some big rocks that were pretty colors, but we still didn't see any horny cows. I got a quick glimpse of my cousin, "Wolfie" when we started our drive, but I was already in my "back seat" mode, and I didn't even bark "hello." Instead, I took a long nap and only woke when I saw an animal that I thought I would like to chase. It was tan and white and looked like the deer back home, except it had different horns. It was standing next to a sign that said, "Welcome to South Dakota."
BJ and Tom are really impulsive. We met our neighbors from the national park campground at a gas station and asked them where they were going. They replied, "Devil's Tower, Wyoming". We looked at a map and said, "Let's go there, too." When I woke up again, I was hungry and could smell lunch. We were picnicking next to the big rocky tower that stuck up in the sky. It looked scary, like a spot people would climb only if they were very brave. I sniffed around, got in my seat in the truck, and went back to sleep.
When I woke again, we were in the woods, and I knew we would be staying here. It was very pretty. There were lots of yellow flowers I had never seen before. Better yet, we were the only ones there, and I got to run and sniff wherever I wanted. After we set up our tent, we took a walk on a path in the hills where I got to run as much as I wanted. I had been in the truck for almost two days, so I really showed BJ and Tom how much I loved to run. The path looked like back home in the woods, but it was also different. There were no big bushes or weeds to slow me down, and the ground felt soft under my paws. I never had to run to check where BJ and Tom were because I could always see them through the trees. I saw many more yellow flowers as we went higher. I could smell pine trees all around, and when I stopped and listened, I could hear the soft wind blowing through their needles. When we finished, we built a campfire, and I lay by the road to rest.
The country we drove through today was filled with rolling hills and grazing cattle. The cows we passed inspired us to stop in a small town to find a butcher shop to buy some steaks. We cooked them on the wood fire. They were so huge, I got a big taste. Mmmm. I'm a lucky boy. If this keeps up, I won't have to touch my dog food.
Day 3 - Tom and I ran on the same trail as yesterday. I knew where I was going now, so I explored further away. I didn't want to leave because it was such a nice place, but when Tom called, I slowly sniffed my way back to him. We drove on a scenic road bordered by high cliffs called Spearfish Canyon. A few years ago, some people shot a movie here called "Dances with Wolves."
It was about a man and an animal that was called "Tatanka." Boy, they have funny words here: bison, buffalo, tatanka! I took a nap. When I woke, we were in the town of Deadwood. It looked like we would see cowboys; but instead, all I heard was "cha ching, cha ching!"
After a short time, we stopped in another spot where four huge faces were chiseled high up in the rocks. I wasn't too interested. We parked inside a garage next to a foreign dog that kept barking in a language I didn't understand. I liked it better when we returned to driving because there were trees all around. Once in a while, I could still see those four faces in the distance. I asked to stretch my legs, so we stopped for lunch and got a final look at them.
By now, we were all tired, so we went to our hotel in Sturgis for the night. We had a hard time finding a place to walk because it was such a small town. I wasn't impressed. I did see a few motorcycles. It might be fun to ride in one of them in a sidecar in the open air. I bet that breeze would feel good through my ears.
I slept OK, even though I heard "people" noises all night and had to bark to make them quiet down. Tom woke me at 3:50 AM so he could get ready to run. He had to take a bus in Deadwood to run on the trail. The bus driver wouldn't allow me to board, so I hung out with BJ in town. I got a lot of pets and hugs and was on my best behavior all day. The most fun was nosing around a creek. I was looking for gold, but didn't find any.
Tom did OK, and I could tell he was feeling good because we left after he finished and drove to another park in the hills. At a sign that read "Wind Cave National Park," we saw the buffalo we were looking for. They were so close! I was impressed with their size. They were big. I knew they would not be any fun to play with, so I hid in my back seat.
We parked under a tree in the shade, and I napped while they walked in an underground cave for 1-½ hours. When they returned, they chattered away about "popcorn" and" boxwork," two words I didn't understand.
It was getting late as we drove through Custer State Park towards our campground. We were scanning the hills and scenery trying to spot more animals. We saw turkey, antelope, and deer. I wasn't too impressed with the park, until we saw our campground. I liked the idea that we had cancelled our second night in a hotel so we could all stay together in our tent again.
It was a nice campground, with a creek running through it and hills on both sides. When we arrived, a few of the big brown animals were in front eating grass. I liked it there, because there was a lot to look at. I thought I caught a glimpse of a potential friend, but I concentrated on food. I was hungry from all that traveling and BJ was trying to make sloppy Joes without the necessary ingredients. She is a great cook. You should taste the cookies she makes for me. But that's another story. Tom liked the sandwiches, and so did I.
After we ate, Tom was stiff from the marathon and wanted to stretch his legs, so I pulled him along on my long leash. We met a man from Minnesota who was very excited to see me. I knew something was going to happen, because we went back to our tent to dress me in my black collar.
When we returned to him, I couldn't believe my eyes. Next to the man was the most beautiful dog I had ever seen. She was black and white, about my size, and looked just like me! Her name was Claire, and oh my gosh, we got to play together! We ran and ran and ran. I chased her. Then, she chased me. And then, we did more of the same. We sniffed and boxed and played until we were both tired, and after we rested and drank from the creek, we sniffed and boxed and ran again. Wow, was she fast and strong, too! Every time I tried a move on her, she put a move on me! It was the best time I ever had in my life. It was also the best way I could ever think of to finish my vacation. Tomorrow, we are going home, but tonight, we all went to sleep smiling. As for me, I think I'm in love!
Day 5 - When we woke, Tom took me to look for buffalo. They had moved nearer to a lodge built in the 1920's where lots of presidents stayed. We went to see the lodge before we left the park.
On our way home, we stopped at a small town to see a famous store called Wall Drug. Then, we drove through country called the Badlands. It looked like we were on the moon. The rocks were red and yellow and tan, and we stopped for lots of pictures. I got to take walks when we stopped. There was one spot that I will always remember. I was hunting in the long grass, and when I looked in one direction, all I could see for miles was long grass. In the other direction, I saw cliffs and a moonscape. It was a unique spot and I liked it, but I can't say I enjoyed it. I wasn't feeling well. Maybe it was the heat. Maybe I was tired from last night. Or maybe, I was lovesick.
BJ wanted to relive one of her childhood memories, so we stopped at Mitchell, South Dakota, to see the Corn Palace. When she was growing up, she visited the Corn Palace and was simply awed. The inside and outside of the building were decorated with murals made from corn. They found a tree to park under so I could have some shade in the 90 degree heat and were only inside long enough to jog BJ's memory tree. It was "big time" for both of them, and for me, it was fine.
After that break, it felt like we drove in the truck for hours without stopping. We crossed the Big Muddy (Missouri) and headed east and north, hoping we would find a place near the highway to camp. We finally found a small "mom and pop" campground called Camp Dakota. It was a godsend to find so late in the day. We had a big tree to sleep under, and it was very pleasant when we sat at the picnic table in the breeze and cooked pork chops.
Early in the morning, it stormed. During a lull in the rain, we quickly broke camp and threw all our gear in the back of the truck without folding it. We were lucky to get everything in without getting wet and even luckier to have had nice weather on our trip.
When I think back to how close I came to not being with BJ and Tom, I know that I'm a lucky boy. Back home, I have my spot under the deck to stay cool and still be on guard for chippies and squirrels. I have my morning runs with Tom to explore new roads and to check places I've been. I have my evenings with them for walks, and my scraps from their plates at every meal. I love our boat rides, where I can stand in the front and let the wind blow through my ears. I didn't even mind falling off the back of the boat once when we were going full speed, because I knew they would be there to pick me up. But out of everything in my life, I like it most when I get to be together with them on the road. It is simply the best!
When I finally lay down on my pillow at night, I'm ready for bed. I am tired and sleep peacefully, but I can't wait for the night to pass and morning to come.
I wonder what new and exciting things will happen tomorrow.
This is how I spent my summer vacation. The end. June/2005
A note from Marc: When I met Cooper he was only 11 months old he was aleady mean enough to deeply concern his owners.

Tom and BJ, both educators, knew a problem dog when they saw one. Cooper was not their first English Setter. But he was different. Cooper was dominant. Cooper was aggressive. He was working his way toward scary.

But both Tom and BJ saw something in this dog worth trying to save. Their options were very limited, but they wanted to try. BJ called me and told me her story. I didn't like the sound of it. But she and her husband were willing to make the 6 hour round trip drive so I could meet Cooper...hoping I might see that same potential in him that they did.

From what I knew about Cooper, I was pretty sure I would not find him to be a good candidate for training. He had been snarling and trying to bite since he was 12 weeks old. Now that he was older, he was getting much better at it.

I'm going to skip to the end of the Cooper story. When I met him, I just liked him. Don't ask me why. I do not know. He was nasty. But he had potential. Just like his owners said.

Cooper went home two weeks later a changed dog. He had become my buddy. He could be trusted off leash. He could be trusted in the house. And although he still needed an educated touch, he was no longer dangerous.

Cooper, the dog who bit the two dog trainers he saw before he came to us, Cooper who faced possible death at 11 months...Cooper is having an amazing life. A good life. A loving life. His owners take him everywhere now.

Marc Goldberg trains dogs in Chicago and Chicago's suburbs. We can help you if your dog has dog behavior problems. Does your Chicago dog growl? Does your Chicago dog bite? Does your Chicago dog bark and jump and ignore you? Just call us now for help with Chicago dog training.
<< Start < Prev

11

12 13 14 15 16 17 18 19 20 Next > End >>


Page 11 of 20

Boarding School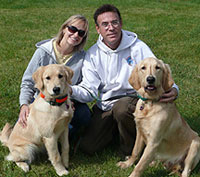 Boarding School
Option 1. Boarding School: In only two weeks, your dog comes home trained to be a happy, polite companion...on and off leash. The investment for our boarding school program pays off for a lifetime. You'll be able to go everywhere together. That's because we only use our amazing ForceFree™ Method. All behavior issues are covered, including housebreaking if it's a problem. And remember...the training is GUARANTEED for the lifetime of your dog.
Drop 'N Shop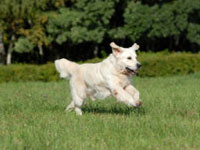 Drop 'N Shop 
Option 2. Drop 'N Shop Training: The immediate solution for rowdiness! Drop your dog off for two hours on four consecutive days. Just head to the mall, or do some grocery shopping. We'll train for excellent on leash manners. Plus you'll get a reliable off leash recall...even under distracting conditions. That's right! No more pulling. You can also play with your loose dog. He'll always come when called. Call for availability. This program is appropriate for dogs who are not aggressive and are 6 months or older. Bartlett location.
Please call us at 800-516-0001 for more information.
Private Lessons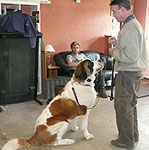 Private Lessons 
Option 3. Private Lesson Program: For those who wish to invest a bit of their own time and achieve savings. A series of six ForceFree™ lessons at our location teaches your dog excellent behavior that lasts. Most clients see dramatic improvements within two weeks. We'll do a demonstration with your dog, and if you're not amazed, you owe nothing! Covered are: leash manners, ignoring other dogs and people, jumping, mouthing, sit, down, stay, and come (on and off leash). Call for availability.
Please call us at 800-516-0001 for more information.
Pack Leader Session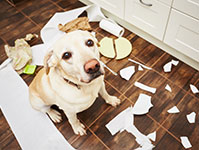 Pack Leader Session 
Option 4. Pack Leader Session: We'll meet and evaluate your dog so we can tell you "WHY your dog is doing that." Together, we design a program you can do at home, calling in to report and discuss progress. Come for two hours and leave many of your problems behind. Call for details and to see if this option is appropriate for you.
Please call us at 800-516-0001 for more information.
Potty Camp™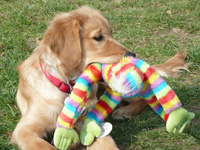 Potty

Camp™ Housebreaking Program

Option 5. : If you have a house breaking problem, our Potty Camp program is the answer! Virtually every puppy and dog can be trained to be clean in the home. If you need us, we're ready to help you get this job done! Potty Camp not only gets you the help you need, it's FUN for your puppy! We can even teach your pup to use a litter box.
Travel 'N Train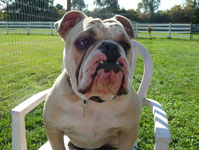 Travel 'N Train
Option 7. Travel 'N Train: We can travel to your location and train at your home, business, or vacation home...wherever your dog enjoys life with you, domestic or international. While this service is not for everyone, it is an excellent option for those who travel extensively with their dogs. Training may include but is not limited to training for good behavior on private planes or jets, and total off leash reliability on the beach and with horses. This training program is customized according to your lifestyle. Call for fees and availability.
Please call us at 800-516-0001 for more information.