MARC GOLDBERG

chicagodogtrainer.com
Call: 800-516-0001
--------------------------
What our clients say...
"You're a miracle worker!"
Brett

"I can see she just loves you."
Elizabeth
Click here to read Bella's Story

"Marc, I must say you are an amazing individual.  I have never seen nor heard of anyone who is able to communicate with dogs this well."
Aaron & Jenny
"She's better than we ever thought she could be."
Tish
"She's like a dream dog. We can take her to PetSmart now and she behaves. It's amazing!"
Andrea
"He's 100% better. I always loved my dog. Now I can trust him too."
Paris


"For once I am not embarrassed, but proud!! I can tell he is a much happier pet. Thank you!!"
Cathi

"Every day is a good day for Zoey! She is such a happy little dog and so well behaved.  She has learned not to bark at the roofer, the painter, the house siding crew, the window man, the neighbor ...."
Anne
Ring the Potty Bell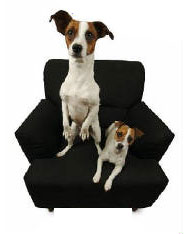 Teach your Dog to Ring the Potty Bell! One of the most useful tricks a dog can learn is to ring a bell when it's time to "go!" Not only can you teach Marc Goldberg's handy alert system to YOUR dog or young puppy, but you can accomplish the training in two weeks or less. We teach you how to teach your dog to Ring the Potty Bell as a simple game making it fun for both of you. Never miss another potty break...now your dog will give you a jingle! Only $5.99.
The Problem with Dog Parks
Watching the dogs running in the dog park, it would have been hard for the average dog owner to spot the growing signs of trouble.  The dogs were moving swiftly, tails up and wagging, with their mouths open. They appeared to be smiling.  Those standing nearby could actually feel the vibrations of their paws against the earth. One might have thought they were horses.  To the casual eye, everything was as it should be. These dogs were happy and having the time of their lives.  Seconds later, that world was thrown into mayhem. 
You see the situation was not as happy as it appeared at first glance.  The raised tails did not denote happy and carefree dogs.  It was a sign of arousal.  These dogs were in prey drive, what started as a simple game of chase, became a brutal and savage hunt.  It happens.  Had there been simply one person there trained to recognize this shift the dog fight could have been avoided.  But no one saw it coming.  As a result a medium-sized mixed breed  named Scooter lost an eye and most of an ear. 
Fortunately, these kinds of fights are rare even in dog parks, but there is always a certain degree of risk when dogs mix together.  It's hard to remember that our cuddly joyful loving companions are still genetically engineered for killing.  They are predators and the fact that they are socially adept doesn't remove that biological drive.  We see it when they chase bugs, or birds, or squirrels, even chasing a ball is related to prey drive.  But we don't expect to see it directed towards other dogs or family.  We usually don't.  But it does happen. Ask Scooter, he knows. 
The truth is dog parks are a great idea, but there are risks involved and anyone who chooses to let their dog participate in one should be aware of those risks. 
Part of my job is to supervise dogs while they socialize at my Chicago dog training school. I have spent years working with dogs and studying dog behavior.  Those years allows me to observe things that others might not.  Having the responsibility for the safety of the dogs I am supervising has caused me to be very meticulous in how I handle things. It is an active job that requires my full attention every second. 
Unlike my Chicago dog training school, there is no one at the dog park trained to do this.  It's every man and dog for himself...and that increases the risk. 
That doesn't mean you shouldn't go the dog park, it just means that you need to be sure you know the dogs in that park and know how your dog reacts to strange dogs before you bring him to socialize.  At the first sign of trouble... leave! Don't wait to see if they are "going to work it out" just get your dog to safety as quickly as possible.  Dog parks should be fun, not laboratories for other dog owners to try to work out their dog's anti-social behavior with your dog as the guinea pig.
Find a nice stable dog park with regulars whose dogs know how to interact with others and don't behave like bullies.  Find a dog park home with dogs you can trust and enjoy the benefits while minimizing the risks.
If your Chicago dog is aggressive or needs to be socialized with other Chicago dogs, call Marc Goldberg, CDT at ChicagoDogTrainer.com. He will help you assess your dog's issues and present solutions. Most dogs who growl and lunge at other dogs while walking in Chicago, are not really aggressive dogs. They're just frustrated from walking around the city of Chicago, never getting to play with other Chicago dogs. That's why you need THE Chicago dog trainer. We can help.

Boarding School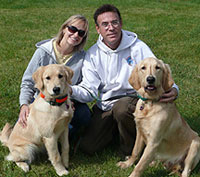 Boarding School
Option 1. Boarding School: In only two weeks, your dog comes home trained to be a happy, polite companion...on and off leash. The investment for our boarding school program pays off for a lifetime. You'll be able to go everywhere together. That's because we only use our amazing ForceFree™ Method. All behavior issues are covered, including housebreaking if it's a problem. And remember...the training is GUARANTEED for the lifetime of your dog.
Drop 'N Shop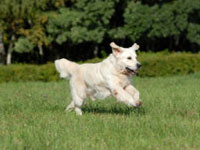 Drop 'N Shop 
Option 2. Drop 'N Shop Training: The immediate solution for rowdiness! Drop your dog off for two hours on four consecutive days. Just head to the mall, or do some grocery shopping. We'll train for excellent on leash manners. Plus you'll get a reliable off leash recall...even under distracting conditions. That's right! No more pulling. You can also play with your loose dog. He'll always come when called. Call for availability. This program is appropriate for dogs who are not aggressive and are 6 months or older. Bartlett location.
Please call us at 800-516-0001 for more information.
Private Lessons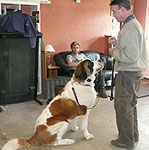 Private Lessons 
Option 3. Private Lesson Program: For those who wish to invest a bit of their own time and achieve savings. A series of six ForceFree™ lessons at our location teaches your dog excellent behavior that lasts. Most clients see dramatic improvements within two weeks. We'll do a demonstration with your dog, and if you're not amazed, you owe nothing! Covered are: leash manners, ignoring other dogs and people, jumping, mouthing, sit, down, stay, and come (on and off leash). Call for availability.
Please call us at 800-516-0001 for more information.
Pack Leader Session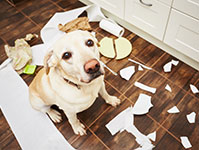 Pack Leader Session 
Option 4. Pack Leader Session: We'll meet and evaluate your dog so we can tell you "WHY your dog is doing that." Together, we design a program you can do at home, calling in to report and discuss progress. Come for two hours and leave many of your problems behind. Call for details and to see if this option is appropriate for you.
Please call us at 800-516-0001 for more information.
Potty Camp™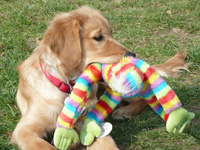 Potty

Camp™ Housebreaking Program

Option 5. : If you have a house breaking problem, our Potty Camp program is the answer! Virtually every puppy and dog can be trained to be clean in the home. If you need us, we're ready to help you get this job done! Potty Camp not only gets you the help you need, it's FUN for your puppy! We can even teach your pup to use a litter box.
Travel 'N Train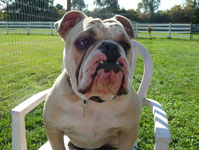 Travel 'N Train
Option 7. Travel 'N Train: We can travel to your location and train at your home, business, or vacation home...wherever your dog enjoys life with you, domestic or international. While this service is not for everyone, it is an excellent option for those who travel extensively with their dogs. Training may include but is not limited to training for good behavior on private planes or jets, and total off leash reliability on the beach and with horses. This training program is customized according to your lifestyle. Call for fees and availability.
Please call us at 800-516-0001 for more information.