MARC GOLDBERG

chicagodogtrainer.com
Call: 800-516-0001
--------------------------
What our clients say...
"You're a miracle worker!"
Brett

"I can see she just loves you."
Elizabeth
Click here to read Bella's Story

"Marc, I must say you are an amazing individual.  I have never seen nor heard of anyone who is able to communicate with dogs this well."
Aaron & Jenny
"She's better than we ever thought she could be."
Tish
"She's like a dream dog. We can take her to PetSmart now and she behaves. It's amazing!"
Andrea
"He's 100% better. I always loved my dog. Now I can trust him too."
Paris


"For once I am not embarrassed, but proud!! I can tell he is a much happier pet. Thank you!!"
Cathi

"Every day is a good day for Zoey! She is such a happy little dog and so well behaved.  She has learned not to bark at the roofer, the painter, the house siding crew, the window man, the neighbor ...."
Anne
Ring the Potty Bell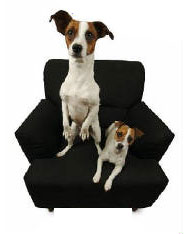 Teach your Dog to Ring the Potty Bell! One of the most useful tricks a dog can learn is to ring a bell when it's time to "go!" Not only can you teach Marc Goldberg's handy alert system to YOUR dog or young puppy, but you can accomplish the training in two weeks or less. We teach you how to teach your dog to Ring the Potty Bell as a simple game making it fun for both of you. Never miss another potty break...now your dog will give you a jingle! Only $5.99.
One of the most frustrating and costly behavior problems your dog can have is digging.  I once had a client's dog dig up a water pipe and chew through it.  In a single afternoon he caused around $60,000 worth of damage, destroying landscaping and a brand new deck! Needless to say, the owners of this dog were not happy when they called me.
While this amount of damage is uncommon, the fact remains that digging is a destructive act and is usually a constant source of stress for dog owners who have to deal with it. 
There are a lot of "behavior band-aids" for digging. Most of them work sometimes, but none of them work all the time.  I'll offer one of my favorites at the end of this article.  However, I prefer a more thorough approach. With the dog who did all the damage to the deck and landscaping we never did anything to address the digging specifically. We didn't need to.  All we had to do was change the way the dog viewed the world. 

There are lots of reasons dogs dig.  When your dog is digging next to the foundation of the house or the concrete slab of the patio or air conditioning unit, you can pretty much be certain that the dog is digging a cooling pit.  He's too hot and is trying to cool off. That's not a behavior problem but a housing problem. If your dog is telling you he's too hot, provide a way for him to cool off! But don't punish him for trying to regulate his body temperature.
Other dogs dig to escape under the fence.  Some like the soil in the flower beds while others tend to dig seemingly at random throughout the yard.
The number one solution I recommend for digging is to stop leaving the dog in the yard alone for long periods. Many people put their dog in the yard when they leave for work because they believe the dog likes it outside.  Or they don't want to leave him "cooped up in the house all day".  The truth is most dogs are perfectly happy to remain in the house while their owner's are at work. But even if the dog would prefer to be outside, his destructive behavior makes that a bad idea. 
However, there are some people who need to leave their dog outside, for those people I recommend solid obedience training and at least one hour of face time with the dog per day.  That can be outside, or inside (even if the dog has to be on the leash) but get that time to interact with the dog every single day.  The combination of these two elements can be a powerful tool to prevent digging as well as most other behavior problems. 
If you are dead set on the quick fix, here's one that I like a lot.  If your dog has regular areas he digs get some inflatable balloons. Blow them up to near popping and bury them where the dog likes to dig. When his claws hit the balloon it will pop making a lot of noise and maybe throwing a little cloud of soil in the dog's face.  The startle effect of this trick is often enough to make the dog abandon digging for good! But be warned, if the digging is stress related, he'll just redirect his stress elsewhere.  He might stop digging only to start eating your stuff!
Marc Goldberg, CDT offers a complete solution to the boredom which causes digging in the first plae. Just call him so he can help your dog learn beneficial ways to use his energy and creativity....ways both you and your Chicago dog will actually enjoy. Dogs who learn to play fetch or Frisbee don't dig. But first your dog must learn to come when called, no matter what. Marc Goldberg can easily teach this to your dog. Don't believe it? Don't worry! Just call. We are the Chicago dog trainers who guarantee our work.

Boarding School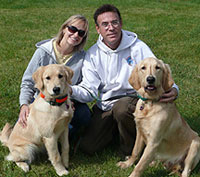 Boarding School
Option 1. Boarding School: In only two weeks, your dog comes home trained to be a happy, polite companion...on and off leash. The investment for our boarding school program pays off for a lifetime. You'll be able to go everywhere together. That's because we only use our amazing ForceFree™ Method. All behavior issues are covered, including housebreaking if it's a problem. And remember...the training is GUARANTEED for the lifetime of your dog.
Drop 'N Shop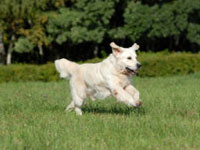 Drop 'N Shop 
Option 2. Drop 'N Shop Training: The immediate solution for rowdiness! Drop your dog off for two hours on four consecutive days. Just head to the mall, or do some grocery shopping. We'll train for excellent on leash manners. Plus you'll get a reliable off leash recall...even under distracting conditions. That's right! No more pulling. You can also play with your loose dog. He'll always come when called. Call for availability. This program is appropriate for dogs who are not aggressive and are 6 months or older. Bartlett location.
Please call us at 800-516-0001 for more information.
Private Lessons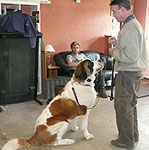 Private Lessons 
Option 3. Private Lesson Program: For those who wish to invest a bit of their own time and achieve savings. A series of six ForceFree™ lessons at our location teaches your dog excellent behavior that lasts. Most clients see dramatic improvements within two weeks. We'll do a demonstration with your dog, and if you're not amazed, you owe nothing! Covered are: leash manners, ignoring other dogs and people, jumping, mouthing, sit, down, stay, and come (on and off leash). Call for availability.
Please call us at 800-516-0001 for more information.
Pack Leader Session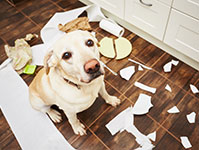 Pack Leader Session 
Option 4. Pack Leader Session: We'll meet and evaluate your dog so we can tell you "WHY your dog is doing that." Together, we design a program you can do at home, calling in to report and discuss progress. Come for two hours and leave many of your problems behind. Call for details and to see if this option is appropriate for you.
Please call us at 800-516-0001 for more information.
Potty Camp™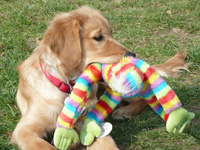 Potty

Camp™ Housebreaking Program

Option 5. : If you have a house breaking problem, our Potty Camp program is the answer! Virtually every puppy and dog can be trained to be clean in the home. If you need us, we're ready to help you get this job done! Potty Camp not only gets you the help you need, it's FUN for your puppy! We can even teach your pup to use a litter box.
Travel 'N Train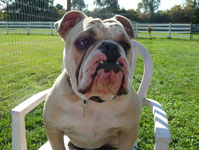 Travel 'N Train
Option 7. Travel 'N Train: We can travel to your location and train at your home, business, or vacation home...wherever your dog enjoys life with you, domestic or international. While this service is not for everyone, it is an excellent option for those who travel extensively with their dogs. Training may include but is not limited to training for good behavior on private planes or jets, and total off leash reliability on the beach and with horses. This training program is customized according to your lifestyle. Call for fees and availability.
Please call us at 800-516-0001 for more information.