MARC GOLDBERG

chicagodogtrainer.com
Call: 800-516-0001
--------------------------
What our clients say...
"You're a miracle worker!"
Brett

"I can see she just loves you."
Elizabeth
Click here to read Bella's Story

"Marc, I must say you are an amazing individual.  I have never seen nor heard of anyone who is able to communicate with dogs this well."
Aaron & Jenny
"She's better than we ever thought she could be."
Tish
"She's like a dream dog. We can take her to PetSmart now and she behaves. It's amazing!"
Andrea
"He's 100% better. I always loved my dog. Now I can trust him too."
Paris


"For once I am not embarrassed, but proud!! I can tell he is a much happier pet. Thank you!!"
Cathi

"Every day is a good day for Zoey! She is such a happy little dog and so well behaved.  She has learned not to bark at the roofer, the painter, the house siding crew, the window man, the neighbor ...."
Anne
Ring the Potty Bell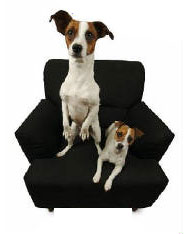 Teach your Dog to Ring the Potty Bell! One of the most useful tricks a dog can learn is to ring a bell when it's time to "go!" Not only can you teach Marc Goldberg's handy alert system to YOUR dog or young puppy, but you can accomplish the training in two weeks or less. We teach you how to teach your dog to Ring the Potty Bell as a simple game making it fun for both of you. Never miss another potty break...now your dog will give you a jingle! Only $5.99.
By Waylon Harvey
Separation anxiety, also known in the dog training world as owner absent misbehavior, is one of the most frequently encountered problems in the world of dog training. Separation anxiety can manifest itself in many different ways, including chewing, destroying the owner's property, excessive barking, self destructive behavior and inappropriate urination and defecation.
Dogs suffering from separation anxiety often whine, bark, cry, howl, dig, chew and scratch at the door the entire time their family members are away. Well meaning owners often unwittingly encourage this misbehavior by rushing home to reassure the dog, but it is important for the well being of both dog and owner that the dog learn to deal with extended periods of separation.
How the owner leaves the house can often contribute to separation anxiety issues. A long and drawn out period of farewell can make matters worse by making the dog feel even more isolated when the owner finally leaves. These long types of farewells can get the dog excited, and then leave him with lots of excess energy and no way to work it off. These excited, isolated dogs often work off their excess energy in the most destructive of ways, such as chewing up a favorite rug or piece of furniture.
Excess energy is often mistaken for separation anxiety, since results are often the same. If you think that excess amounts of energy may be the problem, try giving your dog more exercise to see if that eliminates the problem.
If separation anxiety is truly the problem, it is important to address the root causes of that anxiety. In order to prevent separation anxiety from occurring, it is important for the dog to feel happy, safe, secure and comfortable while the owner is away for the day. It is important, for instance, to give the dog plenty of things to keep it busy while you are away. This means providing it with lots of toys, such as balls or chew toys. A pet companion is often effective at relieving separation anxiety as well. Giving the dog a playmate, such as another dog or a cat, is a great way for busy pet parents and pets alike to cope with the stress of being left alone.
Setting aside scheduled play times, during which the pet is given your undivided attention, is another great way to alleviate boredom and separation anxiety. Playing with the dog, and providing it with sufficient attention and exercise, is a proven way to avoid a stressed and anxious dog. A happy dog that has been well exercised and well conditioned will generally sleep the day away happily and patiently wait for the return of its owner.
It is important to schedule one of these daily play sessions before you leave the house each day. It is important to give the dog a few minutes to settle down after playtime before you leave.
For dogs that are already experiencing separation anxiety and associated misbehaviors, it is important to get him accustomed to your leaving gradually. Be sure to practice leaving and returning at irregular intervals, several times during the day. Doing so will get your dog accustomed to your deparartures and help him realize that you are not leaving him forever. Dogs that have been previously lost, or those that have been surrendered to shelters and readopted, often have the worst problems with separation anxiety. Part of treating this problem is teaching the dog that your leaving is not permanent.
Waylon Harvey shares more of his dog knowledge at his informative site, Puppy House Breaking.

Boarding School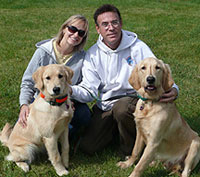 Boarding School
Option 1. Boarding School: In only two weeks, your dog comes home trained to be a happy, polite companion...on and off leash. The investment for our boarding school program pays off for a lifetime. You'll be able to go everywhere together. That's because we only use our amazing ForceFree™ Method. All behavior issues are covered, including housebreaking if it's a problem. And remember...the training is GUARANTEED for the lifetime of your dog.
Drop 'N Shop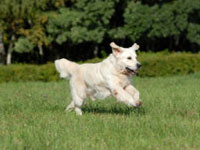 Drop 'N Shop 
Option 2. Drop 'N Shop Training: The immediate solution for rowdiness! Drop your dog off for two hours on four consecutive days. Just head to the mall, or do some grocery shopping. We'll train for excellent on leash manners. Plus you'll get a reliable off leash recall...even under distracting conditions. That's right! No more pulling. You can also play with your loose dog. He'll always come when called. Call for availability. This program is appropriate for dogs who are not aggressive and are 6 months or older. Bartlett location.
Please call us at 800-516-0001 for more information.
Private Lessons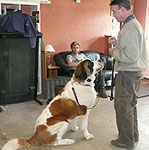 Private Lessons 
Option 3. Private Lesson Program: For those who wish to invest a bit of their own time and achieve savings. A series of six ForceFree™ lessons at our location teaches your dog excellent behavior that lasts. Most clients see dramatic improvements within two weeks. We'll do a demonstration with your dog, and if you're not amazed, you owe nothing! Covered are: leash manners, ignoring other dogs and people, jumping, mouthing, sit, down, stay, and come (on and off leash). Call for availability.
Please call us at 800-516-0001 for more information.
Pack Leader Session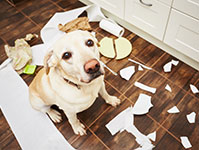 Pack Leader Session 
Option 4. Pack Leader Session: We'll meet and evaluate your dog so we can tell you "WHY your dog is doing that." Together, we design a program you can do at home, calling in to report and discuss progress. Come for two hours and leave many of your problems behind. Call for details and to see if this option is appropriate for you.
Please call us at 800-516-0001 for more information.
Potty Camp™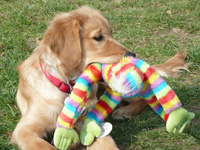 Potty

Camp™ Housebreaking Program

Option 5. : If you have a house breaking problem, our Potty Camp program is the answer! Virtually every puppy and dog can be trained to be clean in the home. If you need us, we're ready to help you get this job done! Potty Camp not only gets you the help you need, it's FUN for your puppy! We can even teach your pup to use a litter box.
Travel 'N Train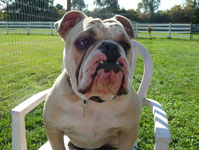 Travel 'N Train
Option 7. Travel 'N Train: We can travel to your location and train at your home, business, or vacation home...wherever your dog enjoys life with you, domestic or international. While this service is not for everyone, it is an excellent option for those who travel extensively with their dogs. Training may include but is not limited to training for good behavior on private planes or jets, and total off leash reliability on the beach and with horses. This training program is customized according to your lifestyle. Call for fees and availability.
Please call us at 800-516-0001 for more information.