MARC GOLDBERG

chicagodogtrainer.com
Call: 800-516-0001
--------------------------
What our clients say...
"You're a miracle worker!"
Brett

"I can see she just loves you."
Elizabeth
Click here to read Bella's Story

"Marc, I must say you are an amazing individual.  I have never seen nor heard of anyone who is able to communicate with dogs this well."
Aaron & Jenny
"She's better than we ever thought she could be."
Tish
"She's like a dream dog. We can take her to PetSmart now and she behaves. It's amazing!"
Andrea
"He's 100% better. I always loved my dog. Now I can trust him too."
Paris


"For once I am not embarrassed, but proud!! I can tell he is a much happier pet. Thank you!!"
Cathi

"Every day is a good day for Zoey! She is such a happy little dog and so well behaved.  She has learned not to bark at the roofer, the painter, the house siding crew, the window man, the neighbor ...."
Anne
Ring the Potty Bell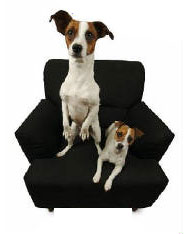 Teach your Dog to Ring the Potty Bell! One of the most useful tricks a dog can learn is to ring a bell when it's time to "go!" Not only can you teach Marc Goldberg's handy alert system to YOUR dog or young puppy, but you can accomplish the training in two weeks or less. We teach you how to teach your dog to Ring the Potty Bell as a simple game making it fun for both of you. Never miss another potty break...now your dog will give you a jingle! Only $5.99.
God Wants Me To Be A Good Dog!
How to stop behaviors in the house without the battle of willpower.
by Marc Goldberg
The concept of correcting your dog can create a contest of willpower between you and your pet. Anyone who has ever lived with even a slightly naughty dog can tell you that such critters thrive on contests of willpower. A four year old child whining in Walmart for a candy bar still hasn't got the reserve of willpower held by the average dog.
For example, if you've ever corrected your dog from getting up on the couch or eating off a counter, he knows you don't like him doing it. Does he stop? Heck no. He simply does the behavior when you're not looking. Or maybe he even does it in front of you with a look that says, go ahead, try and stop me.
That's because Fido knows what you want. But he just knows he has the option of doing it anyway because maybe, just maybe, today is the day when mom or dad doesn't have the strength to deal with me.
The answer is NOT to yell at or correct your dog more or harder. That's a hard lesson to learn for most pet owners. But as you may have found by now, correcting more and more simply makes for an enjoyable challenge for the dog. He thinks, "Go ahead, make my day, because I feel lucky today, punk."
Let's take luck out of the training process!
Here is a set of simple instructions to follow to stop your dog from doing an indoor behavior such as getting on the couch, snarfing food off counters, eating the trash, etc.
Do not reprimand the dog. You'll only teach him to wait till you're not around if you do so.
Instead, keep a supply of empty plastic milk jugs handy all over your house.
Into each empty ½ gallon or gallon jug, place a couple handfuls of dried bean and replace the cap.
When you find the dog on the sofa—or better yet eyeballing it with intent—loft a jug so that it lands on or near your dog, depending on his size or temperament.
When you throw the jug, DO NOT look at or even say anything to your dog, and do not pick up the jug again in your dog's presence.
Your dog will think, "Hmmm, God drops a loud bomb on my head every time I even look at the couch."
You may only have to do the above once or twice to make the couch (trash, or whatever) a "bad place" for Fido. But what you have removed from the contest is YOURSELF. You have made the contest between Fido and God, and believe me, God always wins.

Boarding School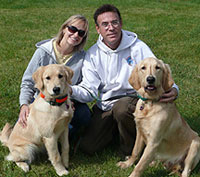 Boarding School
Option 1. Boarding School: In only two weeks, your dog comes home trained to be a happy, polite companion...on and off leash. The investment for our boarding school program pays off for a lifetime. You'll be able to go everywhere together. That's because we only use our amazing ForceFree™ Method. All behavior issues are covered, including housebreaking if it's a problem. And remember...the training is GUARANTEED for the lifetime of your dog.
Drop 'N Shop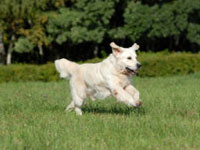 Drop 'N Shop 
Option 2. Drop 'N Shop Training: The immediate solution for rowdiness! Drop your dog off for two hours on four consecutive days. Just head to the mall, or do some grocery shopping. We'll train for excellent on leash manners. Plus you'll get a reliable off leash recall...even under distracting conditions. That's right! No more pulling. You can also play with your loose dog. He'll always come when called. Call for availability. This program is appropriate for dogs who are not aggressive and are 6 months or older. Bartlett location.
Please call us at 800-516-0001 for more information.
Private Lessons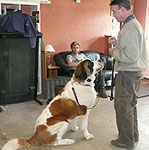 Private Lessons 
Option 3. Private Lesson Program: For those who wish to invest a bit of their own time and achieve savings. A series of six ForceFree™ lessons at our location teaches your dog excellent behavior that lasts. Most clients see dramatic improvements within two weeks. We'll do a demonstration with your dog, and if you're not amazed, you owe nothing! Covered are: leash manners, ignoring other dogs and people, jumping, mouthing, sit, down, stay, and come (on and off leash). Call for availability.
Please call us at 800-516-0001 for more information.
Pack Leader Session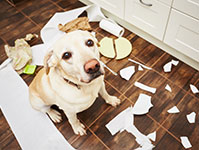 Pack Leader Session 
Option 4. Pack Leader Session: We'll meet and evaluate your dog so we can tell you "WHY your dog is doing that." Together, we design a program you can do at home, calling in to report and discuss progress. Come for two hours and leave many of your problems behind. Call for details and to see if this option is appropriate for you.
Please call us at 800-516-0001 for more information.
Potty Camp™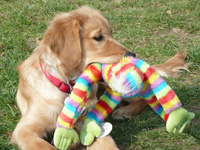 Potty

Camp™ Housebreaking Program

Option 5. : If you have a house breaking problem, our Potty Camp program is the answer! Virtually every puppy and dog can be trained to be clean in the home. If you need us, we're ready to help you get this job done! Potty Camp not only gets you the help you need, it's FUN for your puppy! We can even teach your pup to use a litter box.
Travel 'N Train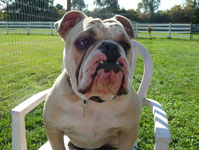 Travel 'N Train
Option 7. Travel 'N Train: We can travel to your location and train at your home, business, or vacation home...wherever your dog enjoys life with you, domestic or international. While this service is not for everyone, it is an excellent option for those who travel extensively with their dogs. Training may include but is not limited to training for good behavior on private planes or jets, and total off leash reliability on the beach and with horses. This training program is customized according to your lifestyle. Call for fees and availability.
Please call us at 800-516-0001 for more information.