MARC GOLDBERG

chicagodogtrainer.com
Call: 800-516-0001
--------------------------
What our clients say...
"You're a miracle worker!"
Brett

"I can see she just loves you."
Elizabeth
Click here to read Bella's Story

"Marc, I must say you are an amazing individual.  I have never seen nor heard of anyone who is able to communicate with dogs this well."
Aaron & Jenny
"She's better than we ever thought she could be."
Tish
"She's like a dream dog. We can take her to PetSmart now and she behaves. It's amazing!"
Andrea
"He's 100% better. I always loved my dog. Now I can trust him too."
Paris


"For once I am not embarrassed, but proud!! I can tell he is a much happier pet. Thank you!!"
Cathi

"Every day is a good day for Zoey! She is such a happy little dog and so well behaved.  She has learned not to bark at the roofer, the painter, the house siding crew, the window man, the neighbor ...."
Anne
Ring the Potty Bell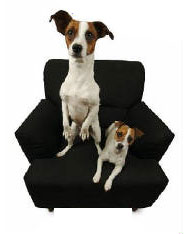 Teach your Dog to Ring the Potty Bell! One of the most useful tricks a dog can learn is to ring a bell when it's time to "go!" Not only can you teach Marc Goldberg's handy alert system to YOUR dog or young puppy, but you can accomplish the training in two weeks or less. We teach you how to teach your dog to Ring the Potty Bell as a simple game making it fun for both of you. Never miss another potty break...now your dog will give you a jingle! Only $5.99.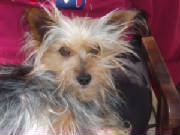 By Jack Russell
Considered "man's best friend," dog training professionals have been disseminating more knowledge on how to make this animal live up to that title.
Here are tips that one should keep in mind in training his dog more easily.
Digging Behavior
Dogs, as social beings, consider digging as their outlet when they are lonely. Nutrient deficiency may also cause this digging. Also known as pica, they sometimes eat the dirt they dig to supplement their health. Spending more time with your dog and giving him a health check will keep his digging behavior at bay.
Potty Training
For dog potty training, a reward-based method will prove to be a very rewarding endeavor. Giving it a bit of dog food when it performs a good potty behavior will make it easier for it to remember the good thing that it did.
Repeat and Repeat
Considerable repetitions will give your dog ample time to grasp the command. Consistency is the name of the game. After doing enough repetitions, not helping him with the routine will test if the dog really got it. Three successful attempts in a row is a fine gauge in defining if it's just a fluke or if the dog has actually understood the drill.
Direct and Correct
Communicate to the dog how the drill should be. Be clear on what you want the dog to do. Just commanding the dog without correcting him if he did it wrongly is not advisable.
Timing is Gold
Timing means that you should consider the age of the dog when considering how to deal with him. It is best to train dogs while they are still puppies. Always remember that "old dogs can't learn new tricks" saying.
Be More Stubborn Than the Dog
Establishing rapport to the dog must always be in this order: you as the alpha dog (authoritative) and him as the submissive being. Show any sign of fear when he snaps back and you damage that rapport. Don't let the dog not complete the exercise. This will teach the dog to just hold out long enough for you give in to his preferences.
Be A Good Actor
Provide your puppy with an outlet for his chewing urges. Also, you may practice yelping loudly when your pup starts to chew on you. After yelping, fold your arms and for 10 minutes consider ignoring him. That response is the thing that happens when a pup becomes too rough on other puppies. But depending on your puppy's personality, he may react otherwise, such as biting more. In this case, use a more aggressive approach.
Jack Russell is a a long time dog fancier, visit his Dog Resources Blog and download his Free Dog Owners Handbook - it's Dog Gone Good! www.daveshealthbuzz.com/dogcare/

Boarding School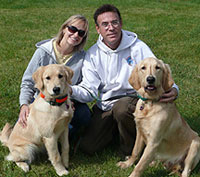 Boarding School
Option 1. Boarding School: In only two weeks, your dog comes home trained to be a happy, polite companion...on and off leash. The investment for our boarding school program pays off for a lifetime. You'll be able to go everywhere together. That's because we only use our amazing ForceFree™ Method. All behavior issues are covered, including housebreaking if it's a problem. And remember...the training is GUARANTEED for the lifetime of your dog.
Drop 'N Shop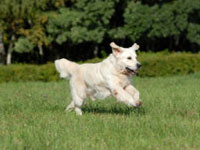 Drop 'N Shop 
Option 2. Drop 'N Shop Training: The immediate solution for rowdiness! Drop your dog off for two hours on four consecutive days. Just head to the mall, or do some grocery shopping. We'll train for excellent on leash manners. Plus you'll get a reliable off leash recall...even under distracting conditions. That's right! No more pulling. You can also play with your loose dog. He'll always come when called. Call for availability. This program is appropriate for dogs who are not aggressive and are 6 months or older. Bartlett location.
Please call us at 800-516-0001 for more information.
Private Lessons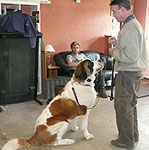 Private Lessons 
Option 3. Private Lesson Program: For those who wish to invest a bit of their own time and achieve savings. A series of six ForceFree™ lessons at our location teaches your dog excellent behavior that lasts. Most clients see dramatic improvements within two weeks. We'll do a demonstration with your dog, and if you're not amazed, you owe nothing! Covered are: leash manners, ignoring other dogs and people, jumping, mouthing, sit, down, stay, and come (on and off leash). Call for availability.
Please call us at 800-516-0001 for more information.
Pack Leader Session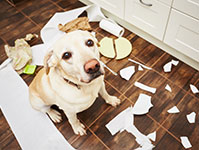 Pack Leader Session 
Option 4. Pack Leader Session: We'll meet and evaluate your dog so we can tell you "WHY your dog is doing that." Together, we design a program you can do at home, calling in to report and discuss progress. Come for two hours and leave many of your problems behind. Call for details and to see if this option is appropriate for you.
Please call us at 800-516-0001 for more information.
Potty Camp™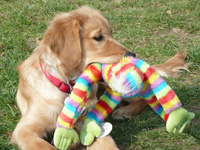 Potty

Camp™ Housebreaking Program

Option 5. : If you have a house breaking problem, our Potty Camp program is the answer! Virtually every puppy and dog can be trained to be clean in the home. If you need us, we're ready to help you get this job done! Potty Camp not only gets you the help you need, it's FUN for your puppy! We can even teach your pup to use a litter box.
Travel 'N Train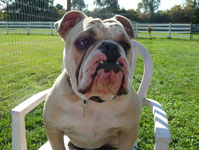 Travel 'N Train
Option 7. Travel 'N Train: We can travel to your location and train at your home, business, or vacation home...wherever your dog enjoys life with you, domestic or international. While this service is not for everyone, it is an excellent option for those who travel extensively with their dogs. Training may include but is not limited to training for good behavior on private planes or jets, and total off leash reliability on the beach and with horses. This training program is customized according to your lifestyle. Call for fees and availability.
Please call us at 800-516-0001 for more information.