MARC GOLDBERG

chicagodogtrainer.com
Call: 800-516-0001
--------------------------
What our clients say...
"You're a miracle worker!"
Brett

"I can see she just loves you."
Elizabeth
Click here to read Bella's Story

"Marc, I must say you are an amazing individual.  I have never seen nor heard of anyone who is able to communicate with dogs this well."
Aaron & Jenny
"She's better than we ever thought she could be."
Tish
"She's like a dream dog. We can take her to PetSmart now and she behaves. It's amazing!"
Andrea
"He's 100% better. I always loved my dog. Now I can trust him too."
Paris


"For once I am not embarrassed, but proud!! I can tell he is a much happier pet. Thank you!!"
Cathi

"Every day is a good day for Zoey! She is such a happy little dog and so well behaved.  She has learned not to bark at the roofer, the painter, the house siding crew, the window man, the neighbor ...."
Anne
Ring the Potty Bell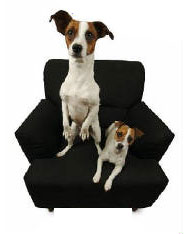 Teach your Dog to Ring the Potty Bell! One of the most useful tricks a dog can learn is to ring a bell when it's time to "go!" Not only can you teach Marc Goldberg's handy alert system to YOUR dog or young puppy, but you can accomplish the training in two weeks or less. We teach you how to teach your dog to Ring the Potty Bell as a simple game making it fun for both of you. Never miss another potty break...now your dog will give you a jingle! Only $5.99.
By Dawn Keadic
Every dog owner must eventually deal with some unwanted behaviors on the part of their four legged companions. Some of the most frequently encountered training problems with puppies and dogs alike are jumping on people and performing those amazing feats of escape.
Jumping up on people
Jumping up on people can be a cute trick for puppies, but it quickly becomes a problem behavior as the dog gets older, larger and heavier. A very heavy dog can easily knock a child or even a small adult of his or her feet, so jumping on people can be a dangerous problem as well as an annoying one.
The reason puppies and older dogs jump on people is obvious – they are excited and happy to see them. Many people are reluctant to discourage this exuberant behavior, but it is important to redirect that happiness and energy in other ways. Many well meaning owners, family members and friends inadvertently encourage this jumping up behavior by picking the puppy up, kissing it or otherwise providing encouragement.
This type of inconsistency is anathema to proper dog training, and in order for the dog to be trained not to jump, every member of the family must recognize and accept the importance of the training. If one member of the family allows the dog to jump up while other family members do not, the dog will understandably become confused and frustrated. The training must be firm, kind and consistent in order to be effective.
One way to redirect the dog's happiness and excited ness from jumping is to teach him to lift his paw when greeting you. This "shaking hands" posture is an acceptable way for the dog to show his happiness and his respect. Many people even teach their dogs to do simple tricks, like rolling over, instead of jumping on people.
Escaping and roaming the neighborhood
A responsible dog owner would never dream of allowing his or her dog to roam the neighborhood freely. Allowing a dog to roam on its own is irresponsible, dangerous (to the dog and the neighborhood), and probably even illegal. Most towns have ordinances which prohibit dogs from being allowed to roam around free, so you could be in legal trouble if your dog is found wandering the neighborhood unattended.
Of course sometimes that wandering dog is not the owner's idea, and many dogs perform amazing feats of escape when left on their own. The temptations for unattended dogs are many, including passing bicycles, joggers, children, cats and other dogs. It is much easier to prevent escapes than to recapture a loose dog, so let's talk about some preventative measures every dog owner can take.
Removing the motivation to escape is a big part of the solution. A bored dog is much more likely to spend his day plotting the great escape. A dog that is surrounded by everything he or she needs, like lots of toys, a soft bed, and plenty of fresh clean, water, is more likely to spend his or her day contentedly sleeping or playing with toys until the owner returns.
In addition, a dog with lots of pent up, unused energy is likely to try to escape. Try incorporating several vigorous play sessions with your dog into your daily routine. Make one of those play sessions right before you leave. If your dog has a chance to work of his or her energy, chances are he or she will sleep or relax much of the day.
Of course dealing with the dog is only half the problem. It is also important to make the property as escape proof as possible, through proper fencing and other measures. For dogs that dig, it may be necessary to extend the fence underground by placing metal stakes in the ground every few feet. For dogs that jump, it may be necessary to make the fence higher. And if none of these measures work, it may be necessary to confine the dog to the house when you are not at home.
Dog lover Dawn Keadic appreciates the benefits of a well-trained dog. There is no nicer compliment than "Wow, your dog listens well, how did you train him?" Dawn shares some secrets of having a well-behaved dog at Puppy Training.


Boarding School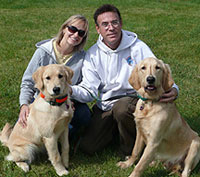 Boarding School
Option 1. Boarding School: In only two weeks, your dog comes home trained to be a happy, polite companion...on and off leash. The investment for our boarding school program pays off for a lifetime. You'll be able to go everywhere together. That's because we only use our amazing ForceFree™ Method. All behavior issues are covered, including housebreaking if it's a problem. And remember...the training is GUARANTEED for the lifetime of your dog.
Drop 'N Shop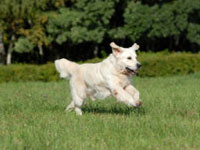 Drop 'N Shop 
Option 2. Drop 'N Shop Training: The immediate solution for rowdiness! Drop your dog off for two hours on four consecutive days. Just head to the mall, or do some grocery shopping. We'll train for excellent on leash manners. Plus you'll get a reliable off leash recall...even under distracting conditions. That's right! No more pulling. You can also play with your loose dog. He'll always come when called. Call for availability. This program is appropriate for dogs who are not aggressive and are 6 months or older. Bartlett location.
Please call us at 800-516-0001 for more information.
Private Lessons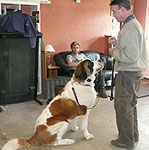 Private Lessons 
Option 3. Private Lesson Program: For those who wish to invest a bit of their own time and achieve savings. A series of six ForceFree™ lessons at our location teaches your dog excellent behavior that lasts. Most clients see dramatic improvements within two weeks. We'll do a demonstration with your dog, and if you're not amazed, you owe nothing! Covered are: leash manners, ignoring other dogs and people, jumping, mouthing, sit, down, stay, and come (on and off leash). Call for availability.
Please call us at 800-516-0001 for more information.
Pack Leader Session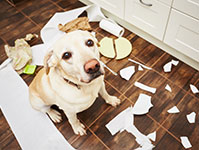 Pack Leader Session 
Option 4. Pack Leader Session: We'll meet and evaluate your dog so we can tell you "WHY your dog is doing that." Together, we design a program you can do at home, calling in to report and discuss progress. Come for two hours and leave many of your problems behind. Call for details and to see if this option is appropriate for you.
Please call us at 800-516-0001 for more information.
Potty Camp™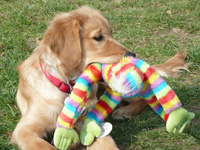 Potty

Camp™ Housebreaking Program

Option 5. : If you have a house breaking problem, our Potty Camp program is the answer! Virtually every puppy and dog can be trained to be clean in the home. If you need us, we're ready to help you get this job done! Potty Camp not only gets you the help you need, it's FUN for your puppy! We can even teach your pup to use a litter box.
Travel 'N Train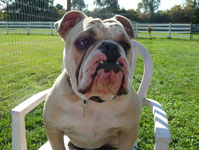 Travel 'N Train
Option 7. Travel 'N Train: We can travel to your location and train at your home, business, or vacation home...wherever your dog enjoys life with you, domestic or international. While this service is not for everyone, it is an excellent option for those who travel extensively with their dogs. Training may include but is not limited to training for good behavior on private planes or jets, and total off leash reliability on the beach and with horses. This training program is customized according to your lifestyle. Call for fees and availability.
Please call us at 800-516-0001 for more information.