MARC GOLDBERG

chicagodogtrainer.com
Call: 800-516-0001
--------------------------
What our clients say...
"You're a miracle worker!"
Brett

"I can see she just loves you."
Elizabeth
Click here to read Bella's Story

"Marc, I must say you are an amazing individual.  I have never seen nor heard of anyone who is able to communicate with dogs this well."
Aaron & Jenny
"She's better than we ever thought she could be."
Tish
"She's like a dream dog. We can take her to PetSmart now and she behaves. It's amazing!"
Andrea
"He's 100% better. I always loved my dog. Now I can trust him too."
Paris


"For once I am not embarrassed, but proud!! I can tell he is a much happier pet. Thank you!!"
Cathi

"Every day is a good day for Zoey! She is such a happy little dog and so well behaved.  She has learned not to bark at the roofer, the painter, the house siding crew, the window man, the neighbor ...."
Anne
Ring the Potty Bell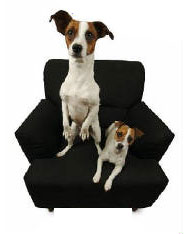 Teach your Dog to Ring the Potty Bell! One of the most useful tricks a dog can learn is to ring a bell when it's time to "go!" Not only can you teach Marc Goldberg's handy alert system to YOUR dog or young puppy, but you can accomplish the training in two weeks or less. We teach you how to teach your dog to Ring the Potty Bell as a simple game making it fun for both of you. Never miss another potty break...now your dog will give you a jingle! Only $5.99.
Be The Leader In Your House!
Be a Leader, a dog will follow.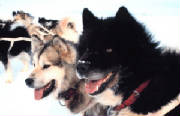 Hum, what does that mean?! Simply put, if you lead the pack, your dog will follow you to the ends of the earth. Some basic and easy adjustments in your dog training routine can result in huge changes in dog behavior. The simple truth is...dog behavior is a result of human behavior. That is, your dog reacts to you. If you take the time to teach your dog appropriate behavior, and you are consistent in reinforcing it, your dog will work so hard to please you. One key to changing and reinforcing new dog behavior is using positive dog training methods. This article introduces some basics in beginning to get some respect from your dog.
Dogs are pack animals, and they want a leader to tell them what to do and what dog behavior is appropriate. If you don't step up as leader, your dog, no matter how big or small or cute and fluffy, will take over as leader (not just of other dogs, but of you, your spouse, your kids, the cats, and anything else that moves and breathes). This is not the ideal situation, as you can see from the following example.
The Franks are a real family where the dog runs the house. King didn't want the role of leader, but no human stepped up as leader so he felt he had to. His "pack" consisted of dad, mom, and two kids. Being leader was a big job--keeping track of the pack, teaching them the rules (which King made up), and enforcing the rules was a 24-hour job. He successfully taught the family to stay away from his food and toys (growling and snapping when they got too close), not to disturb him if he was napping in main traffic areas like the middle of the kitchen floor, that certain pieces of furniture were his and his alone, and that he decided who got to come into the house. The young boy became a playmate whom he could nip and jump on; the older child and the parents were there to care for him. Any infractions of these "rules" were quickly and severely disciplined by King with growling, biting, snapping, baring teeth.
If King's household is like what you experience in your family, we've got some gentle and positive dog training tips to help you take back your leadership role.
Put these simple steps into your dog's daily life and watch the dog behavior changes. Each of these steps shows your dog that YOU are the leader. Let's start simple, with 3 very basic and easy (for you) new dog training ideas. Once you've mastered these, in the next article, I'll introduce several more.
1. Show me your tummy!
Make it a positive experience for your dog to roll over for that yummy tummy rub. This submissive posture indicates a deferment to your leadership.
2. Praise, praise praise!
Praise for being a good dog. Any dog behavior you like and want to keep, praise it and give a small treat occasionally. This focus on what you want is much more successful than a focus on what you don't want. No free treats or praise for the dominant dog. If your dog wants to be petted, have him sit first! Everyone wins and the dog is learning manners at the same time.
3. Get out of the way!
A leader gets respect. For Scout, that means no lying in high traffic areas (hallways, middle of living room or kitchen), no sitting on your feet, and no refusing to move out of the way. Gently scoot your feet in the direction you want to go while using excited tones and waving your hands to get him up and moving.
For a dog, trying to live with everyone "just getting along" does not work. Dogs live in packs with hierarchies, not democracies. Remember, no human leadership means Fifi will take over and set the rules. It's time for you to step into the leader position. If you do, you will notice positive changes in your dog's behavior right away. You and your dog will begin working as a team.
Be the leader--your dog will love you for it and you'll be surprised how hard he'll work to please you.
Get started using these 3 tips and check back in a few weeks for the next set of easy dog training steps for outstanding dog behavior!

Boarding School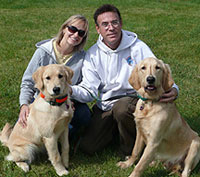 Boarding School
Option 1. Boarding School: In only two weeks, your dog comes home trained to be a happy, polite companion...on and off leash. The investment for our boarding school program pays off for a lifetime. You'll be able to go everywhere together. That's because we only use our amazing ForceFree™ Method. All behavior issues are covered, including housebreaking if it's a problem. And remember...the training is GUARANTEED for the lifetime of your dog.
Drop 'N Shop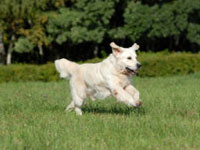 Drop 'N Shop 
Option 2. Drop 'N Shop Training: The immediate solution for rowdiness! Drop your dog off for two hours on four consecutive days. Just head to the mall, or do some grocery shopping. We'll train for excellent on leash manners. Plus you'll get a reliable off leash recall...even under distracting conditions. That's right! No more pulling. You can also play with your loose dog. He'll always come when called. Call for availability. This program is appropriate for dogs who are not aggressive and are 6 months or older. Bartlett location.
Please call us at 800-516-0001 for more information.
Private Lessons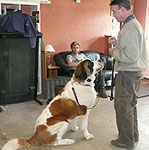 Private Lessons 
Option 3. Private Lesson Program: For those who wish to invest a bit of their own time and achieve savings. A series of six ForceFree™ lessons at our location teaches your dog excellent behavior that lasts. Most clients see dramatic improvements within two weeks. We'll do a demonstration with your dog, and if you're not amazed, you owe nothing! Covered are: leash manners, ignoring other dogs and people, jumping, mouthing, sit, down, stay, and come (on and off leash). Call for availability.
Please call us at 800-516-0001 for more information.
Pack Leader Session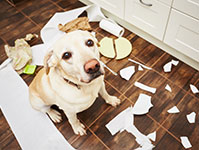 Pack Leader Session 
Option 4. Pack Leader Session: We'll meet and evaluate your dog so we can tell you "WHY your dog is doing that." Together, we design a program you can do at home, calling in to report and discuss progress. Come for two hours and leave many of your problems behind. Call for details and to see if this option is appropriate for you.
Please call us at 800-516-0001 for more information.
Potty Camp™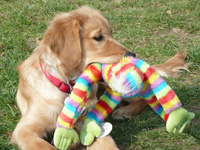 Potty

Camp™ Housebreaking Program

Option 5. : If you have a house breaking problem, our Potty Camp program is the answer! Virtually every puppy and dog can be trained to be clean in the home. If you need us, we're ready to help you get this job done! Potty Camp not only gets you the help you need, it's FUN for your puppy! We can even teach your pup to use a litter box.
Travel 'N Train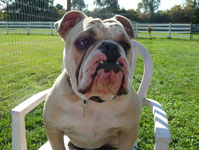 Travel 'N Train
Option 7. Travel 'N Train: We can travel to your location and train at your home, business, or vacation home...wherever your dog enjoys life with you, domestic or international. While this service is not for everyone, it is an excellent option for those who travel extensively with their dogs. Training may include but is not limited to training for good behavior on private planes or jets, and total off leash reliability on the beach and with horses. This training program is customized according to your lifestyle. Call for fees and availability.
Please call us at 800-516-0001 for more information.