MARC GOLDBERG

chicagodogtrainer.com
Call: 800-516-0001
--------------------------
What our clients say...
"You're a miracle worker!"
Brett

"I can see she just loves you."
Elizabeth
Click here to read Bella's Story

"Marc, I must say you are an amazing individual.  I have never seen nor heard of anyone who is able to communicate with dogs this well."
Aaron & Jenny
"She's better than we ever thought she could be."
Tish
"She's like a dream dog. We can take her to PetSmart now and she behaves. It's amazing!"
Andrea
"He's 100% better. I always loved my dog. Now I can trust him too."
Paris


"For once I am not embarrassed, but proud!! I can tell he is a much happier pet. Thank you!!"
Cathi

"Every day is a good day for Zoey! She is such a happy little dog and so well behaved.  She has learned not to bark at the roofer, the painter, the house siding crew, the window man, the neighbor ...."
Anne
Ring the Potty Bell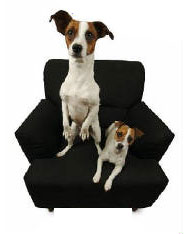 Teach your Dog to Ring the Potty Bell! One of the most useful tricks a dog can learn is to ring a bell when it's time to "go!" Not only can you teach Marc Goldberg's handy alert system to YOUR dog or young puppy, but you can accomplish the training in two weeks or less. We teach you how to teach your dog to Ring the Potty Bell as a simple game making it fun for both of you. Never miss another potty break...now your dog will give you a jingle! Only $5.99.
How to Become a Dog Trainer in Chicago...or anywhere else!
The question people most often ask me is "How do I stop my dog from jumping?"
The second most frequently asked question is, "How can I become a professional dog trainer?"
Before making any life altering decisions, I always advise people to first ask themselves not "how" to become a trainer, but first, "why?" There are excellent reasons to join this profession. Then there are not-so-good reasons.
The worst reasons to become a Chicago dog trainer are because you want to be self employed and make a lot of money. Or because dog trainers are in charge and get to be powerful people. That you love dogs, although critical to your eventual success as a trainer, is not necessarily the best reason either.
If you come into the trade for the wrong reasons, you may be disappointed, and quickly. I believe the best reasons to become a Chicago dog trainer include multiple factors among which are: You love dogs. You have great people and communication skills. You're a motivated self-starter. You are entrepreneurial with an interest in sales and marketing. You like to teach.
Yes, loving dogs certainly comes into play. But that affection for the species is only part of the equation because you don't get to train a single Chicago dog until you persuade the owner to hire you. That's where your sales and marketing skills come in. Training dogs in Chicago (or anywhere else) can be a fun hobby, even a profitable one. But if you intend to make a full time career of it, you'll be answering your own phones, working crazy hours including most weekends, and take client calls at night. You'll also arrange your own liability and health insurance, make your own tax deposits, and be ready to devote years to honing your craft.
If I haven't scared you off yet….good! The profession of dog trainer is an honorable one and it allows you to make a big difference in the lives of people and their pets. For the right person, this is a highly rewarding job, and frankly, it's fun!
So how do you become a dog trainer anyway? Although all roads lead to Rome, three ways stand out as routes to fulfilling your dream.
First: You can purchase a franchise. At least one franchise exists to put you instantly into the business. This company is highly rated from the standpoint of franchise watchdog groups. It is somewhat less highly rated on the part of some practicing dog trainers in Chicago, less because it is competition, and more because the franchisee takes a brief dog training course, a course which is confined to only to the franchisor's method. Some dog trainers believe this leaves you lacking exposure to other methods and lacking skills. Still, if you have fifty to seventy-five thousand dollars to invest right now you, too, can become an instant dog trainer. And with the franchise's national marketing campaign, you won't have to sell nearly as much as other dog trainers in Chicago.
Second: You can attend one of the many schools designed to assist you in living the dream. Perhaps the only difficulty is sorting through all the schools to determine which actually give you what you need. Enrollment fees, quality and duration of study vary widely. Some schools are longtime institutions with good reputations. Others are fly by nighters with no credentials. Almost all offer "certification" to their students. To receive certification from some schools is an honor requiring much learning and testing. Other schools certify everyone who pays the fee. So when shopping schools, Let the Buyer Beware.

Here is a list of only a few of the schools offering dog training education right now. These are among the highly regarded possibilities, although there are others. So do careful research: Triple Crown Academy in Hutto, TX. National K9 in Columbus, OH. And ChicagoDogTrainer.com in IL.

Enrolling in a school gives you the advantage of access to staff with decades of experience in the training and business aspects of this industry. The disadvantage is that you must leave home for a period of time and dedicate yourself to the learning experience. Most students report learning a great deal. Many go on to open their own businesses. Like all businesses, some succeed. Some do not.
Third: You can begin a career as a dog professional by finding a highly regarded Chicago dog trainer and take your dog through every one of their classes. Then, take a second dog through each class. By this time, you may be advanced enough to attract the trainer's attention and you may be allowed to assist at classes. If not, then begin the process all over again with a new trainer, preferably one who uses a different method. In this way, you expose yourself to various training philosophies so you can select the one with which you are most comfortable. Simultaneously, read every book on the topic you can find.

The advantage of this method is that it is relatively economical and you don't have to leave home. Most classes are offered in the evenings after work or on weekends. If you don't decide to continue on the path of becoming a professional, you'll have beautifully trained dogs. If you do continue, you'll have an enormous head start due to all that practical experience.
Becoming a dog trainer need not take years to achieve. Becoming a great dog trainer always requires a commitment of time and effort. You will find additional resources available from the International Association of Canine Professionals (IACP). You can find them on the web at www.dogpro.org. Even if you have limited experience, you can join as an Affiliate Member and gain access to many dog trainer publications and learning opportunities.
To arrive as a dog trainer is not necessarily easy. But it certainly is a wonderful career choice if you love both dogs and people plus have a head for business.

Boarding School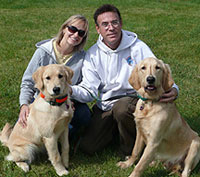 Boarding School
Option 1. Boarding School: In only two weeks, your dog comes home trained to be a happy, polite companion...on and off leash. The investment for our boarding school program pays off for a lifetime. You'll be able to go everywhere together. That's because we only use our amazing ForceFree™ Method. All behavior issues are covered, including housebreaking if it's a problem. And remember...the training is GUARANTEED for the lifetime of your dog.
Drop 'N Shop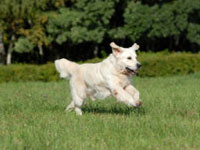 Drop 'N Shop 
Option 2. Drop 'N Shop Training: The immediate solution for rowdiness! Drop your dog off for two hours on four consecutive days. Just head to the mall, or do some grocery shopping. We'll train for excellent on leash manners. Plus you'll get a reliable off leash recall...even under distracting conditions. That's right! No more pulling. You can also play with your loose dog. He'll always come when called. Call for availability. This program is appropriate for dogs who are not aggressive and are 6 months or older. Bartlett location.
Please call us at 800-516-0001 for more information.
Private Lessons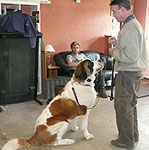 Private Lessons 
Option 3. Private Lesson Program: For those who wish to invest a bit of their own time and achieve savings. A series of six ForceFree™ lessons at our location teaches your dog excellent behavior that lasts. Most clients see dramatic improvements within two weeks. We'll do a demonstration with your dog, and if you're not amazed, you owe nothing! Covered are: leash manners, ignoring other dogs and people, jumping, mouthing, sit, down, stay, and come (on and off leash). Call for availability.
Please call us at 800-516-0001 for more information.
Pack Leader Session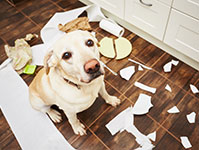 Pack Leader Session 
Option 4. Pack Leader Session: We'll meet and evaluate your dog so we can tell you "WHY your dog is doing that." Together, we design a program you can do at home, calling in to report and discuss progress. Come for two hours and leave many of your problems behind. Call for details and to see if this option is appropriate for you.
Please call us at 800-516-0001 for more information.
Potty Camp™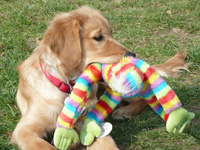 Potty

Camp™ Housebreaking Program

Option 5. : If you have a house breaking problem, our Potty Camp program is the answer! Virtually every puppy and dog can be trained to be clean in the home. If you need us, we're ready to help you get this job done! Potty Camp not only gets you the help you need, it's FUN for your puppy! We can even teach your pup to use a litter box.
Travel 'N Train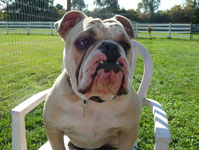 Travel 'N Train
Option 7. Travel 'N Train: We can travel to your location and train at your home, business, or vacation home...wherever your dog enjoys life with you, domestic or international. While this service is not for everyone, it is an excellent option for those who travel extensively with their dogs. Training may include but is not limited to training for good behavior on private planes or jets, and total off leash reliability on the beach and with horses. This training program is customized according to your lifestyle. Call for fees and availability.
Please call us at 800-516-0001 for more information.