MARC GOLDBERG

chicagodogtrainer.com
Call: 800-516-0001
--------------------------
Our Philosophy & Goals
Our philosophy is simple. Improve the life of both dog and family. All too often, unruly dogs do not fully enjoy life because their families constantly become upset and frustrated with them. This is difficult for both family and dog.
 
Our mission is simple. Make both dog and family happy.
 
What does is take to make your dog happy? He will thrive when you give him leadership and attention.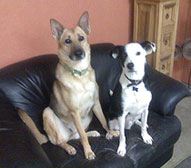 Making the family happy is a bit more complex.
Families typically want their dog to:
Come when called, every time, on or off leash
Walk nicely on a loose leash without pulling
Sit until released
Down until released
Families also want their dogs:
Not to jump on people
Not to charge through doors
Not to dig in the garden
Not to bark and chew  inappropriately
Not to climb on furniture you prefer they avoid
Not to sniff and eat off the table and counters.
Not to be wild and uncontrollable
Not to ignore you when you want their attention 
Ring the Potty Bell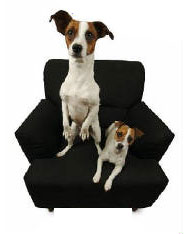 Teach your Dog to Ring the Potty Bell! One of the most useful tricks a dog can learn is to ring a bell when it's time to "go!" Not only can you teach Marc Goldberg's handy alert system to YOUR dog or young puppy, but you can accomplish the training in two weeks or less. We teach you how to teach your dog to Ring the Potty Bell as a simple game making it fun for both of you. Never miss another potty break...now your dog will give you a jingle! Only $5.99.
It's all about Pack Drive!™
Click here to visit our School for Dog Trainers
The course that will forever change the way you look at  dogs and dog training...
An intuitive method that makes sense to both people and dogs.

This course is for you if...
You are a pro trainer who wants to get even better!

You would like to train your own dogs!
Become a ForceFree Method™ & E-Touch Certified Trainer to improve your results, dramatically increase your income, and better serve your clients. Or simply learn how to train your own dogs, gently and happily to off leash reliability. Take your dogs everywhere and be confident.
Learn how barely perceptible remote collar markers plus perfect body language engages the dog's pack drive. Dogs follow the leader! Have happy and off leash reliable dogs in just a few days.
The ForceFree Method™ is an intuitive system of training that makes sense to both people and dogs. Effective and gentle, the training method works WITH the dogs instincts rather than against them. We achieve off leash reliability, even with distractions, amazingly fast. Most dogs perceive the training as simple "pack cooperation" and play. Therefore, they quickly shed rebellious behavior, and give you more focus than you imagined possible. Doesn't that sound like more fun than correction after correction?
Included FREE in your E-Touch / ForceFree Method™ Seminar...
Business Success Workshop for Dog Trainers!
This mini-workshop within a workshop will help you grow your business and meet your personal and financial goals.
Here is what is included:
Marc's 90 minute Business Building DVD free. Packed with tons of concepts that will start making you more money immediately! (A $49.95 value)
The 10 most common business mistakes dog trainers make and how to avoid them.
How to quickly build a personal relationship with the client so they want to buy only from you.
How to build a web site that really sells.
The money making way to describe your training method.
The most profitable dog training service in history!
More on the E Touch / ForceFree Extravaganza:
Two compelling approaches to remote collar training presented by two entertaining instructors. Here is your opportunity to become certified in both the E-Touch and ForceFree Methods in one workshop.

Martin Deeley and Marc Goldberg team up to teach at the E-Touch / ForceFree Method™ Extravaganza. To be held in Montverde, FL, just outside Orlando, places are limited, so consider reserving early.

Both methods are based on the philosophy that learning and cooperation are natural to dogs, and that stress and discomfort do not need to be part of the training experience. Both Martin and Marc emphasize enjoyable training sessions for handler and dog. We'll explore the similarities and subtle differences of these two methods. Students will be certified in both, which means more good tools for your box.

We recommend that students plan to bring untrained client dogs to work during this workshop. You can actually earn all or most of your expenses by bringing people/dog friendly client dogs, at least five months of age. You'll be able to return these dogs to their owners with reliable on and off leash manners, along with easy solutions to household problems such as jumping, digging and door bolting.

Plan on training loads, working hard, laughing a lot, and sharing good times. This is a working seminar with a hands-on approach. We'll also discuss how to successfully market and sell these training services. Each student may bring up to two client dogs. (Some students may plan to fly in with no dogs so we may authorize you to bring additional dogs.) Each student will handle multiple dogs for the widest possible learning experience for both trainers and dogs. Lunches are included. Accommodations are available nearby.
Marc Goldberg and Martin Deeley developed the ForceFree Method™ and E-Touch with multiple goals:
Use effective, gentle training to work with the dog's instincts, not against them.
Achieve off leash reliability with distractions amazingly fast.
Teach the dog to happily walk on a loose.
Leash, sit, down, stay and come off leash…quickly and gently.
Gently, reliably and quickly teach the dog how to stop destructive behaviors.
Increase the speed of training and up the income for the trainer.
<<

Start

<

Prev

1

2 3 4 Next > End >>



Boarding School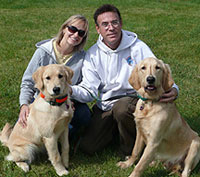 Boarding School
Option 1. Boarding School: In only two weeks, your dog comes home trained to be a happy, polite companion...on and off leash. The investment for our boarding school program pays off for a lifetime. You'll be able to go everywhere together. That's because we only use our amazing ForceFree™ Method. All behavior issues are covered, including housebreaking if it's a problem. And remember...the training is GUARANTEED for the lifetime of your dog.
Drop 'N Shop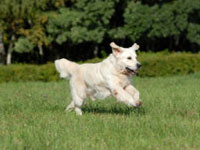 Drop 'N Shop 
Option 2. Drop 'N Shop Training: The immediate solution for rowdiness! Drop your dog off for two hours on four consecutive days. Just head to the mall, or do some grocery shopping. We'll train for excellent on leash manners. Plus you'll get a reliable off leash recall...even under distracting conditions. That's right! No more pulling. You can also play with your loose dog. He'll always come when called. Call for availability. This program is appropriate for dogs who are not aggressive and are 6 months or older. Bartlett location.
Please call us at 800-516-0001 for more information.
Private Lessons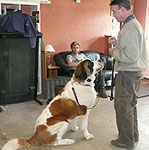 Private Lessons 
Option 3. Private Lesson Program: For those who wish to invest a bit of their own time and achieve savings. A series of six ForceFree™ lessons at our location teaches your dog excellent behavior that lasts. Most clients see dramatic improvements within two weeks. We'll do a demonstration with your dog, and if you're not amazed, you owe nothing! Covered are: leash manners, ignoring other dogs and people, jumping, mouthing, sit, down, stay, and come (on and off leash). Call for availability.
Please call us at 800-516-0001 for more information.
Pack Leader Session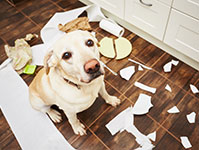 Pack Leader Session 
Option 4. Pack Leader Session: We'll meet and evaluate your dog so we can tell you "WHY your dog is doing that." Together, we design a program you can do at home, calling in to report and discuss progress. Come for two hours and leave many of your problems behind. Call for details and to see if this option is appropriate for you.
Please call us at 800-516-0001 for more information.
Potty Camp™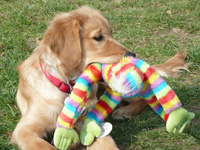 Potty

Camp™ Housebreaking Program

Option 5. : If you have a house breaking problem, our Potty Camp program is the answer! Virtually every puppy and dog can be trained to be clean in the home. If you need us, we're ready to help you get this job done! Potty Camp not only gets you the help you need, it's FUN for your puppy! We can even teach your pup to use a litter box.
Travel 'N Train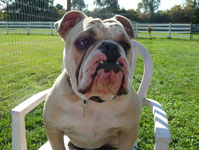 Travel 'N Train
Option 7. Travel 'N Train: We can travel to your location and train at your home, business, or vacation home...wherever your dog enjoys life with you, domestic or international. While this service is not for everyone, it is an excellent option for those who travel extensively with their dogs. Training may include but is not limited to training for good behavior on private planes or jets, and total off leash reliability on the beach and with horses. This training program is customized according to your lifestyle. Call for fees and availability.
Please call us at 800-516-0001 for more information.